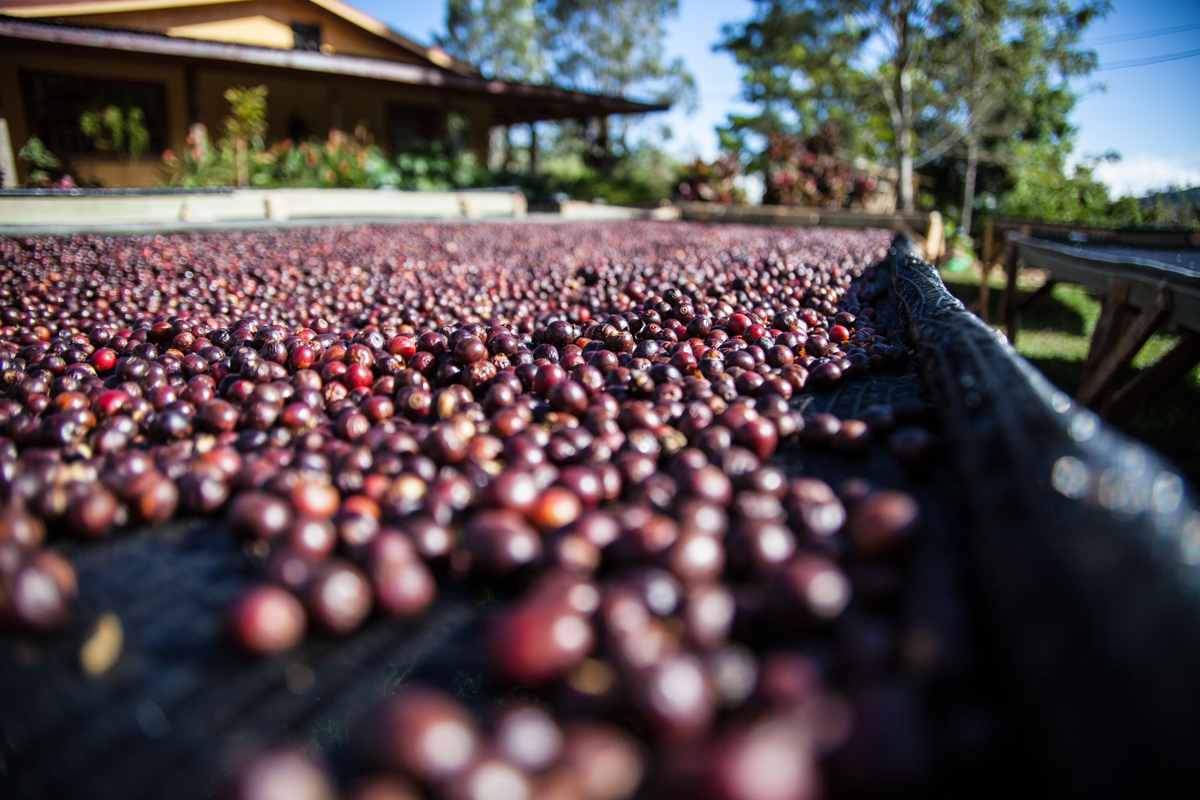 Unpulped coffees (i.e. natural) dry at El Pilan.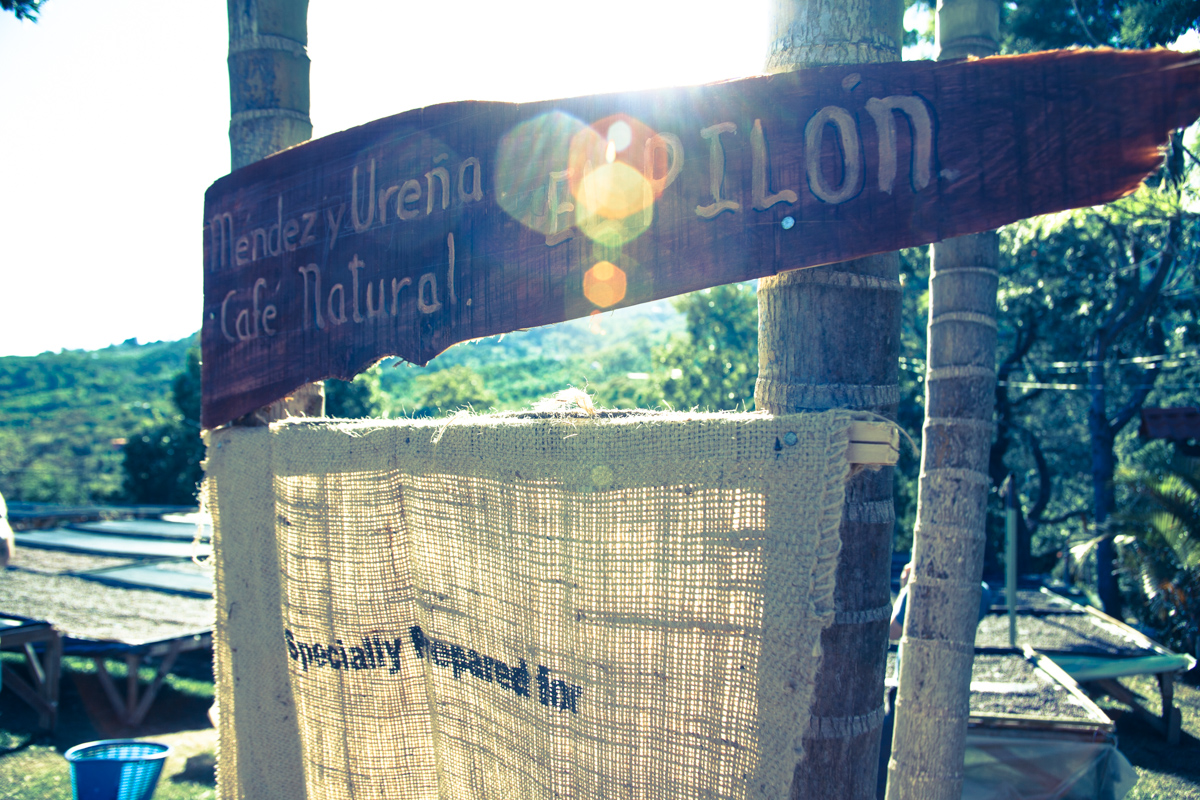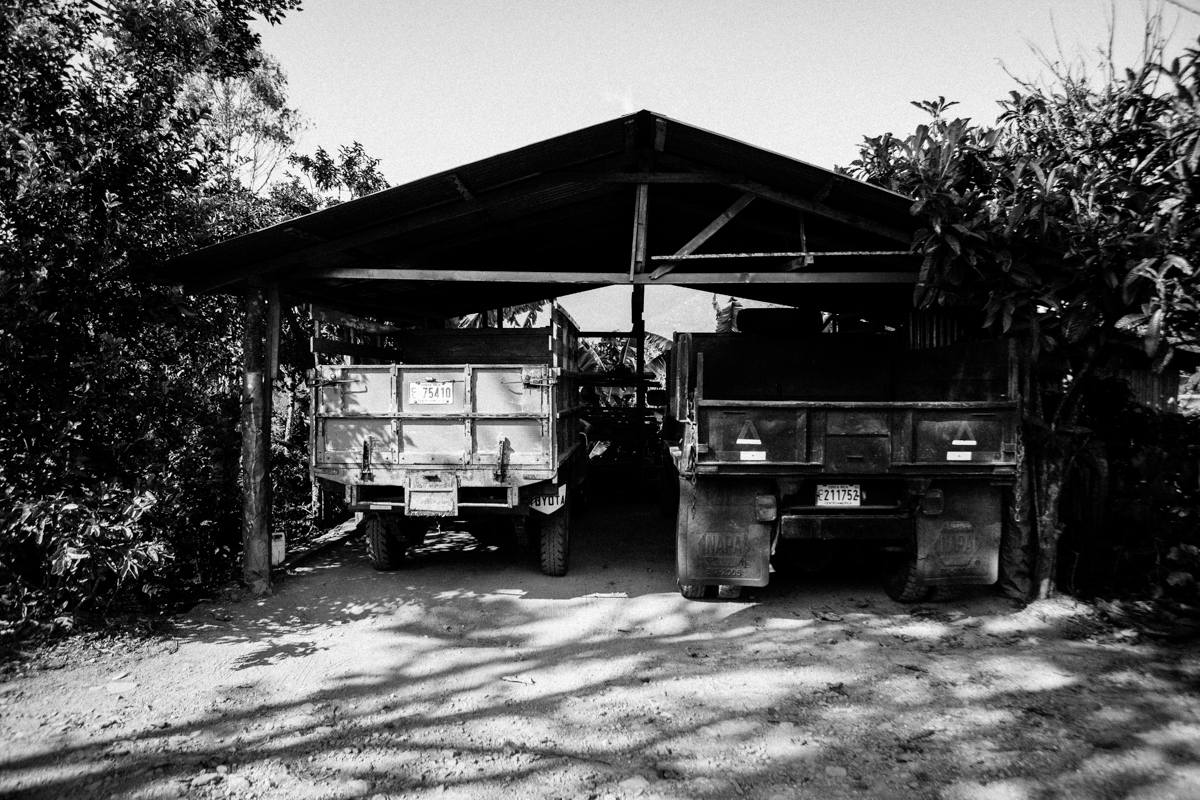 Trucks used to haul coffee cherry from the fields to the mills rest peacefully, no doubt they will be abused later while navigating the steep hillsides.
Saying "whiskey" in Luis Alberto's dry storage and mill with brother Oscar. Left to right: Oscar, Sean, Winston, Luis, Aaron (Brown Coffee Co.)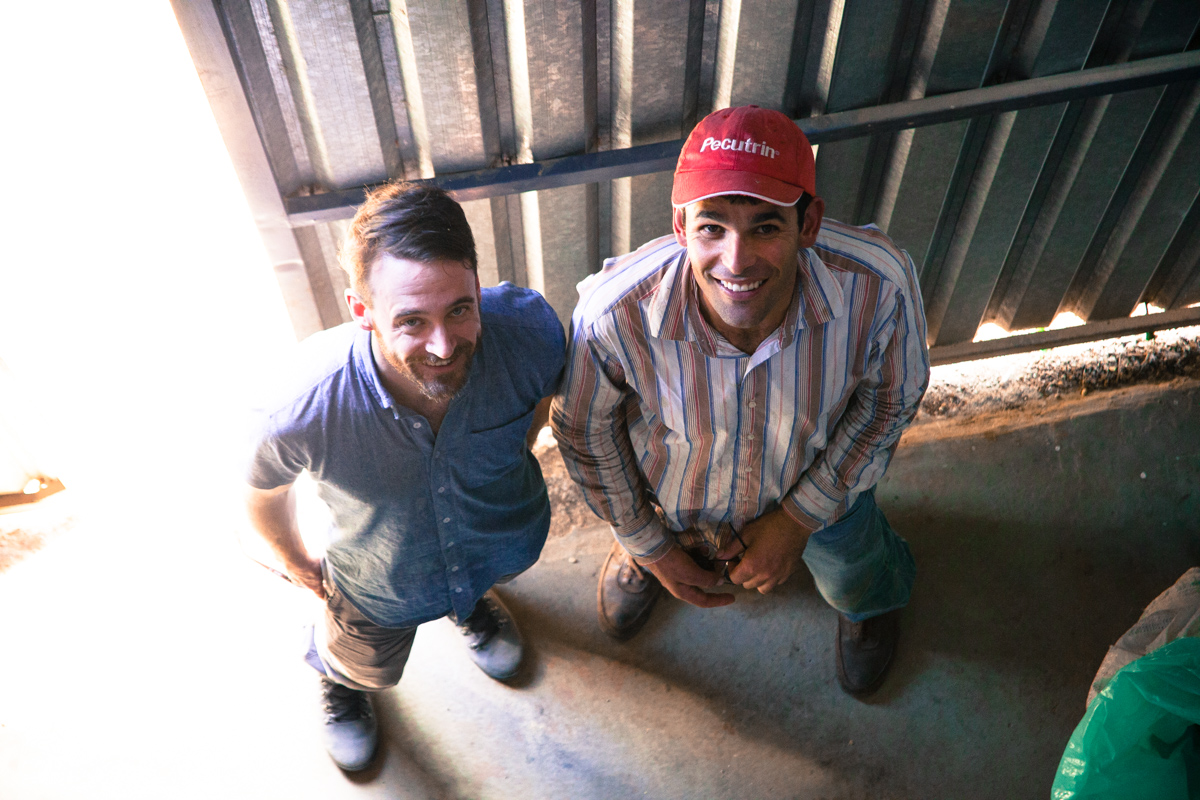 Winston poses with Oscar, Luis Alberto's brother during our visit to the La Lia mill, Costa Rica.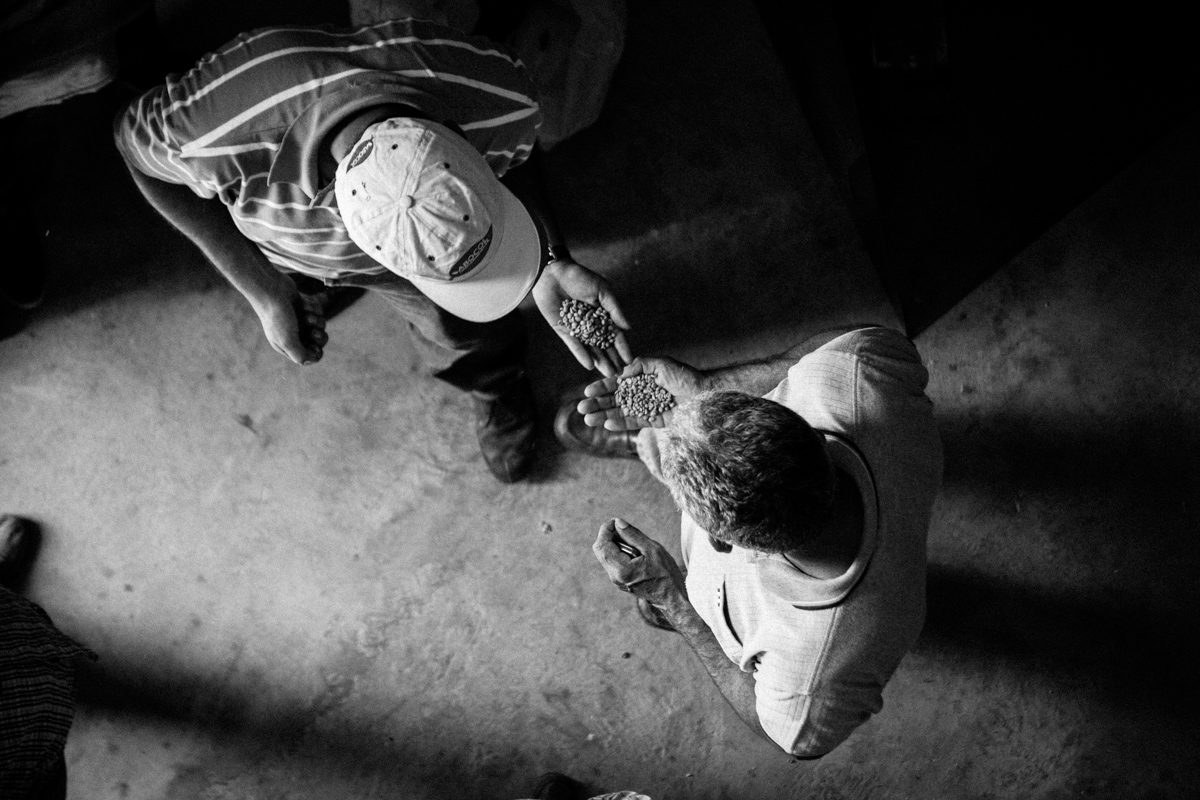 Luis compares drying coffee cherry with fellow farmer from El Pilan.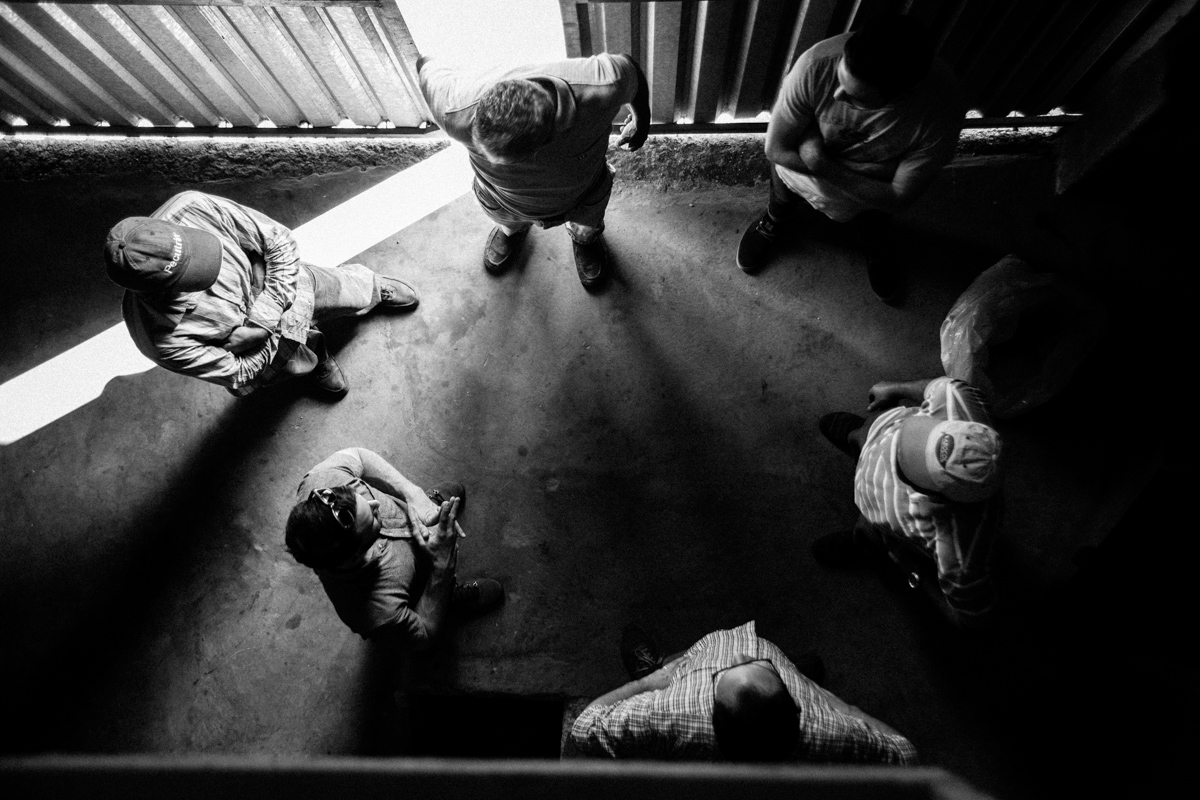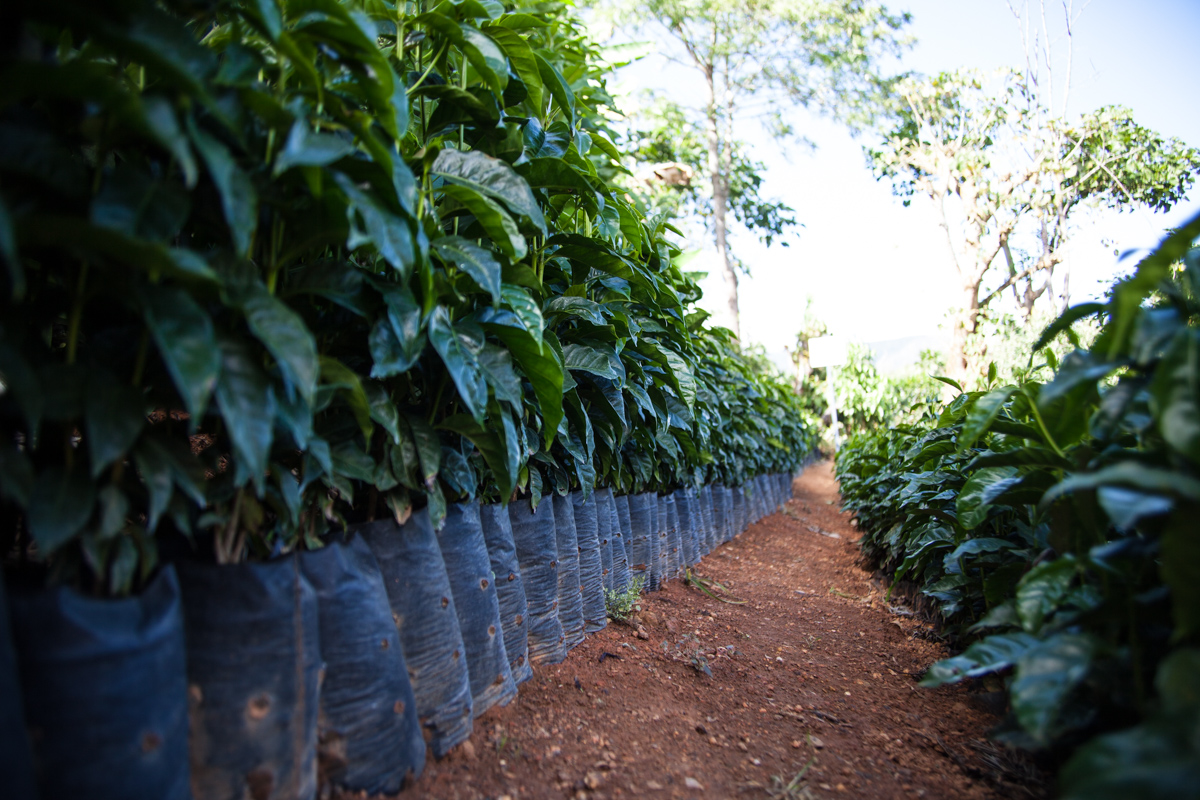 Just some of the thousands of young coffee plants Luis is experimenting with and preparing to plant.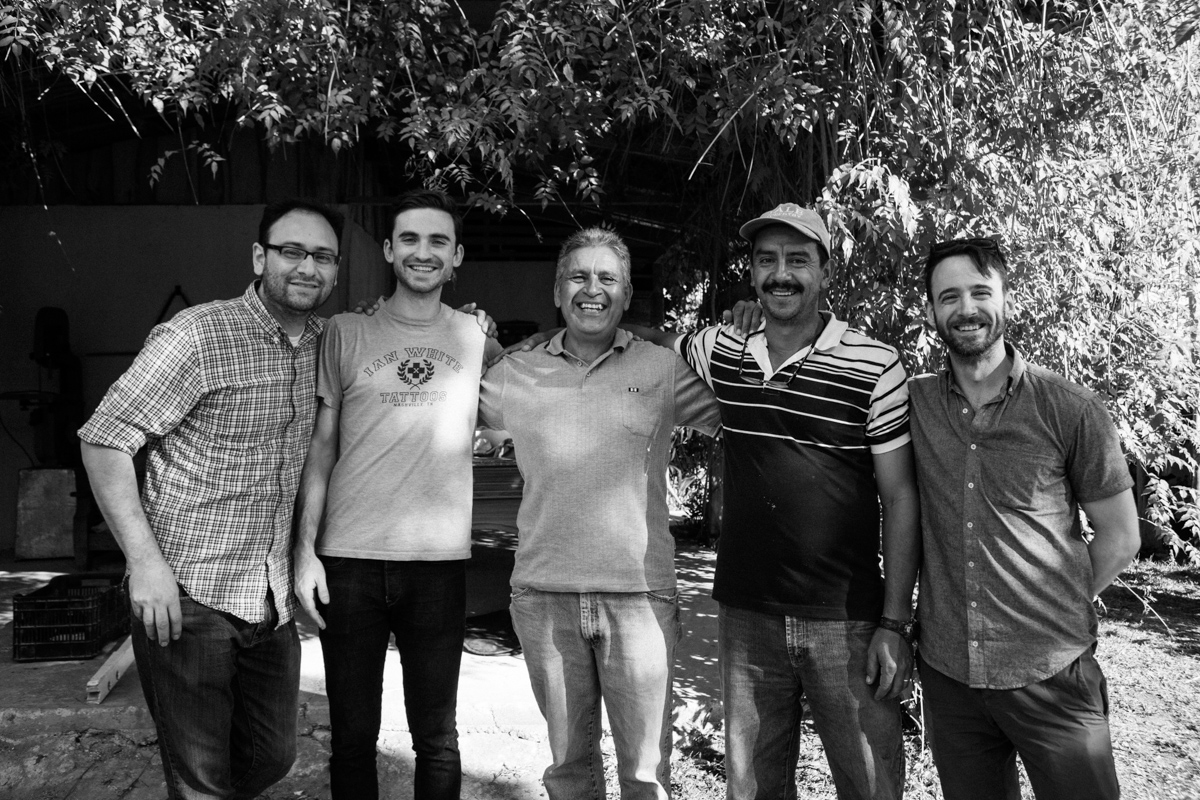 Taking time to snap a photo with the guys from El Pilan.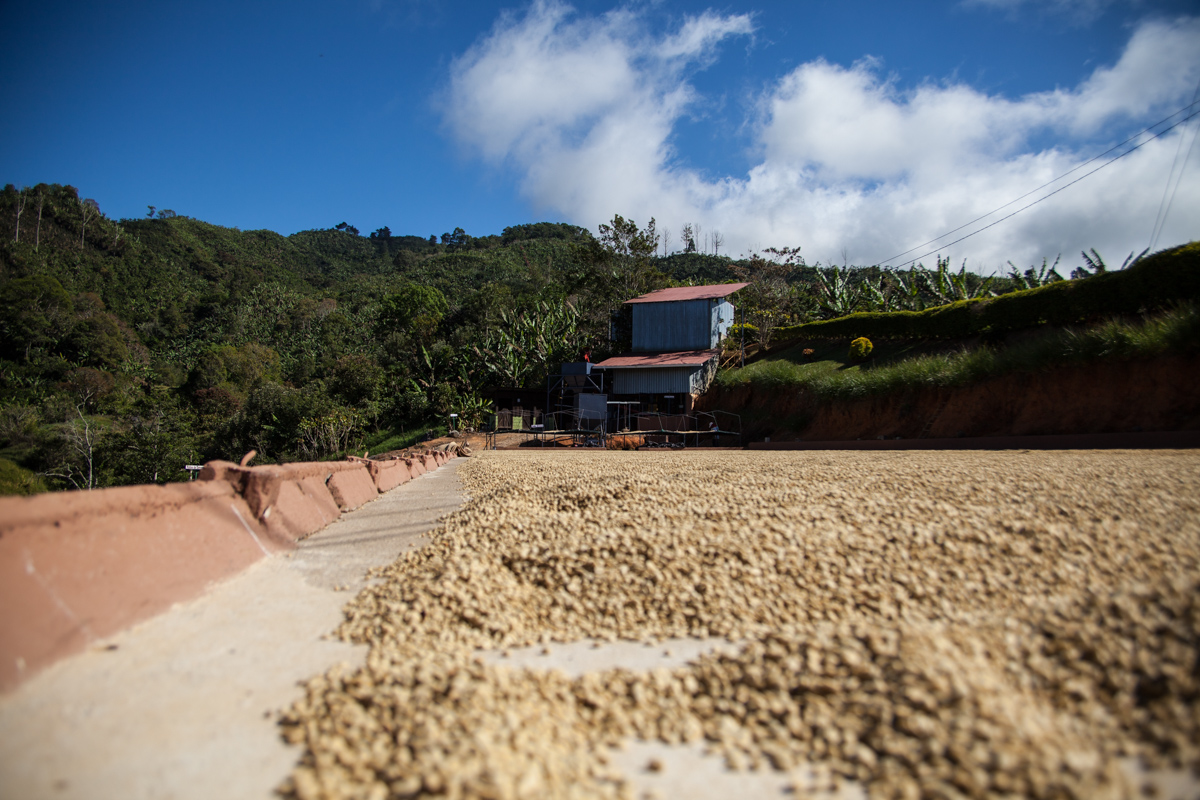 Drying beds at the La Lia mill, Costa Rica.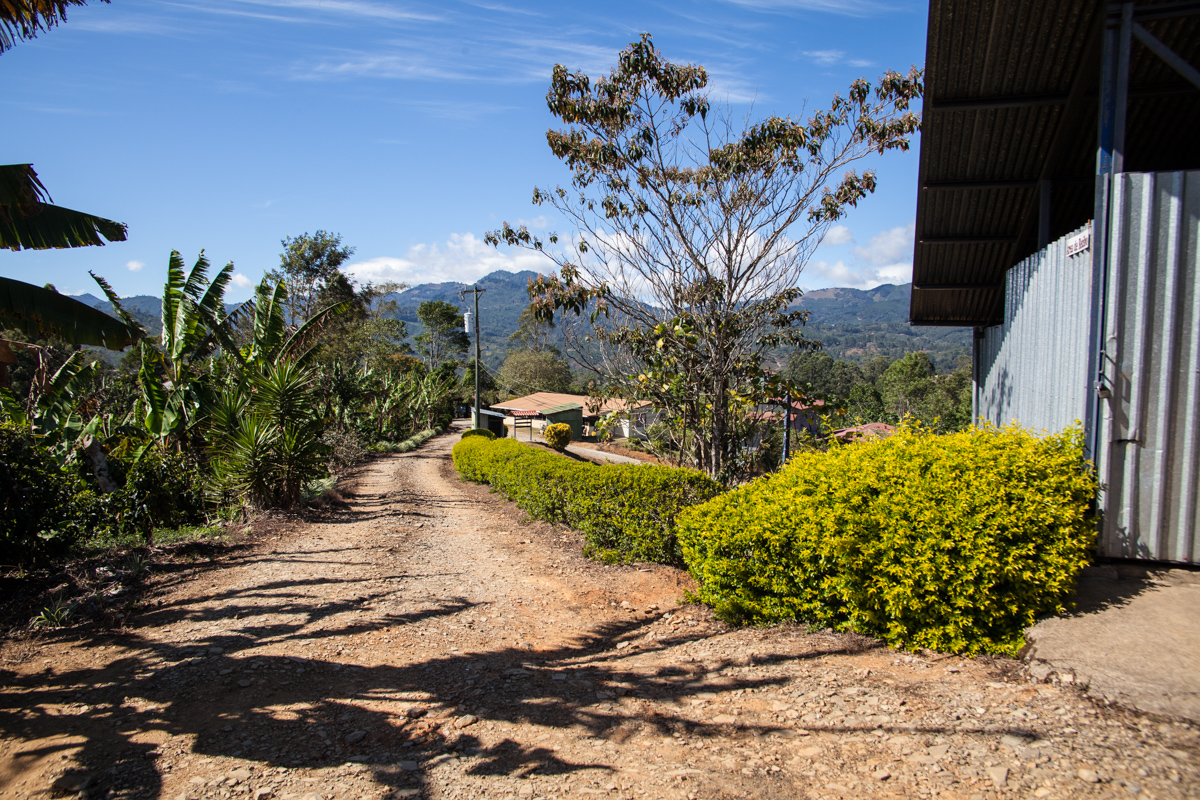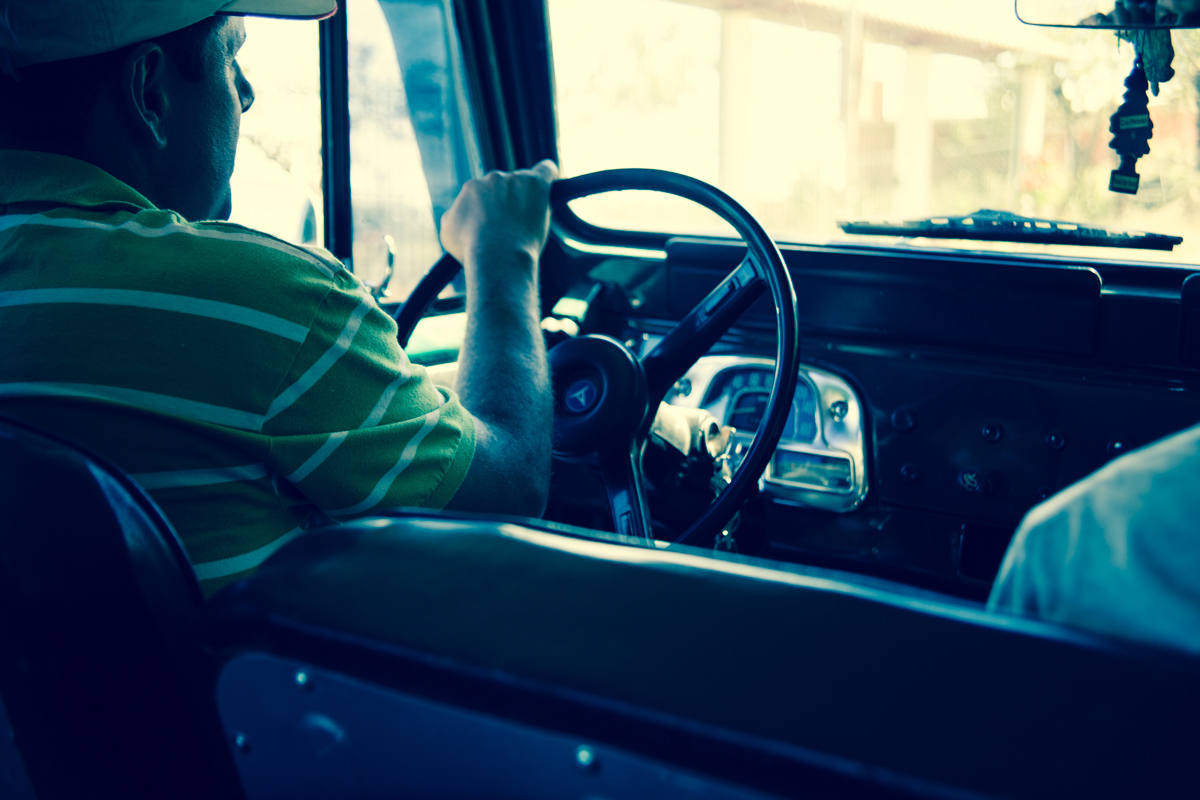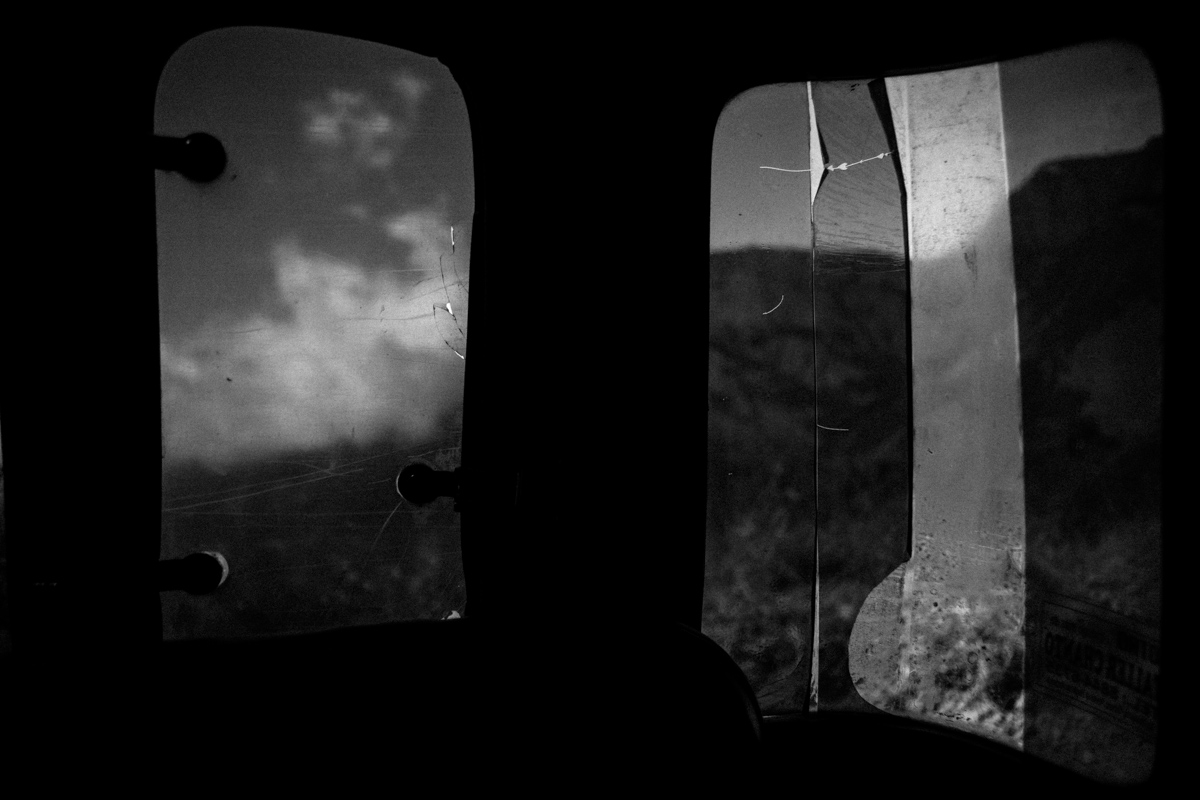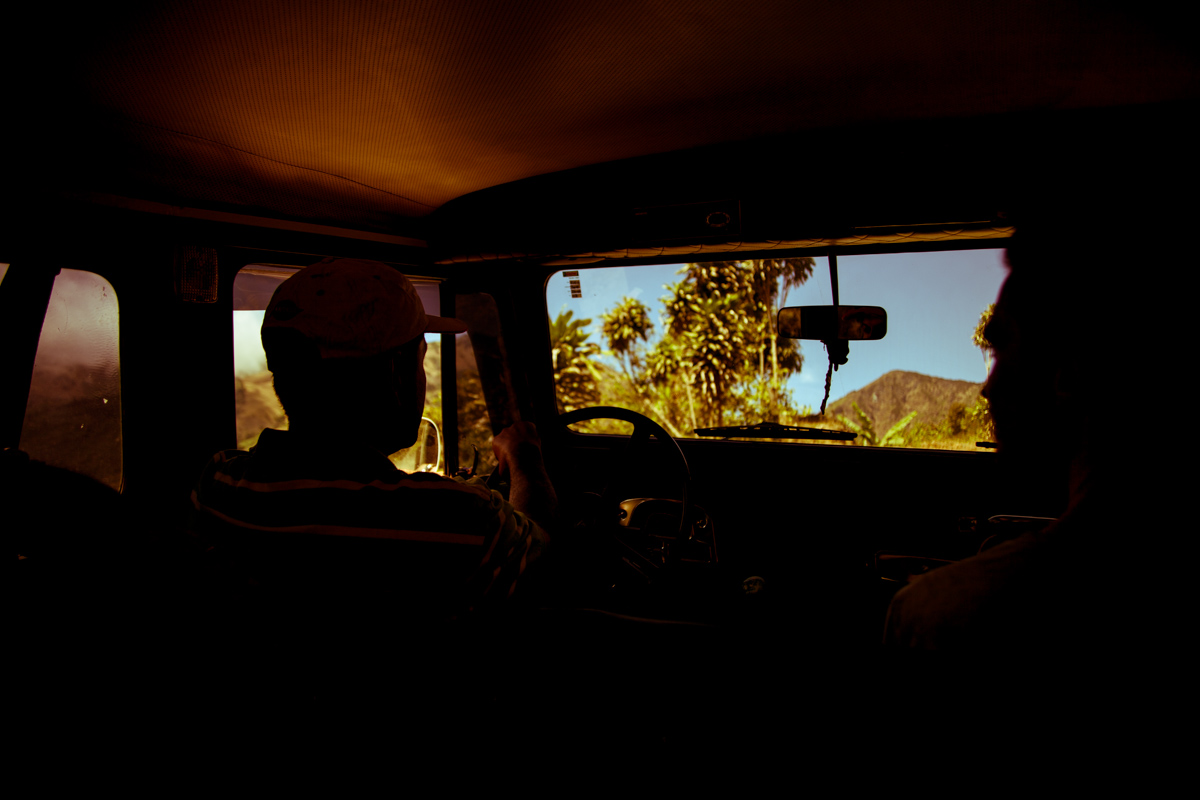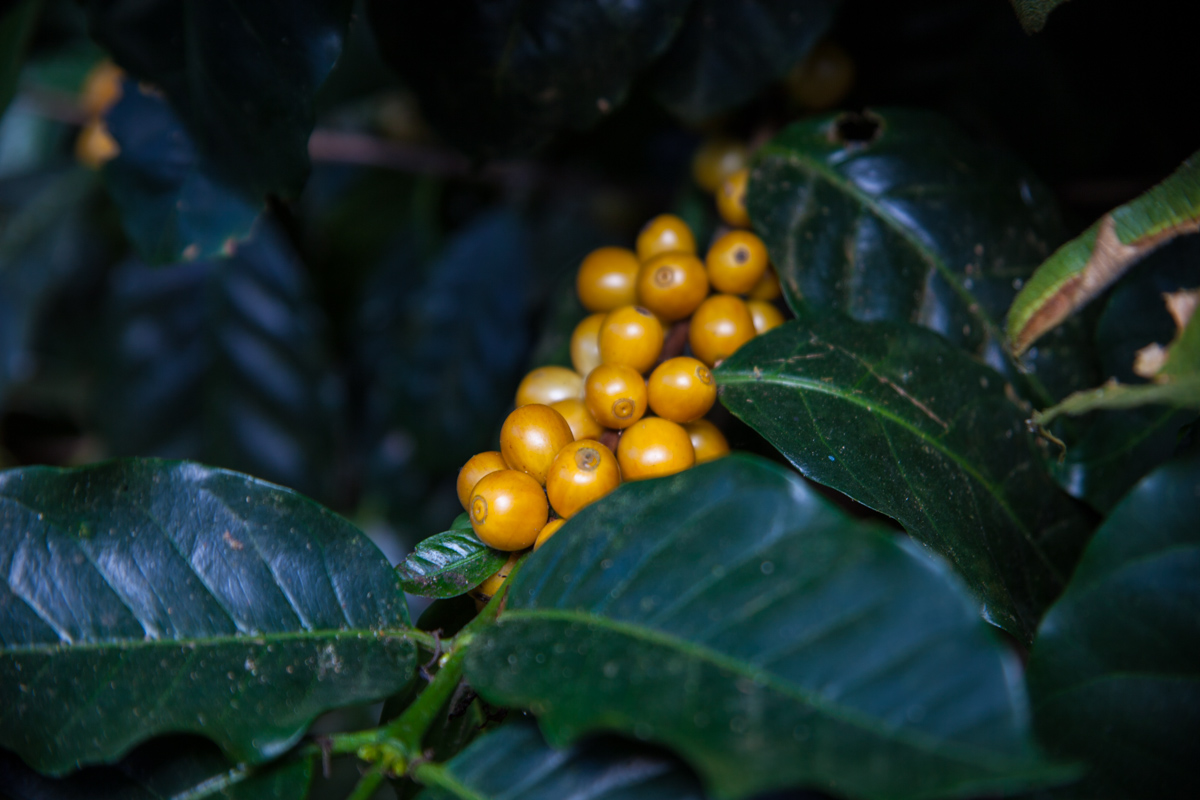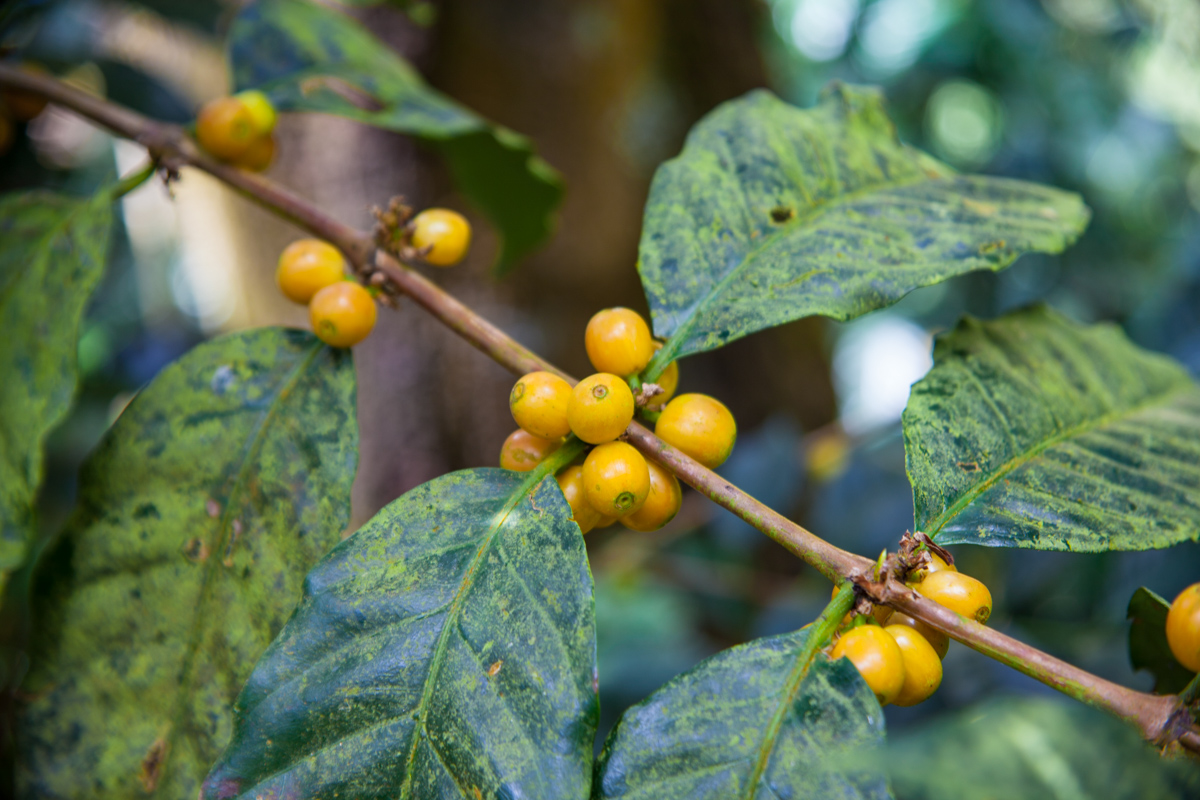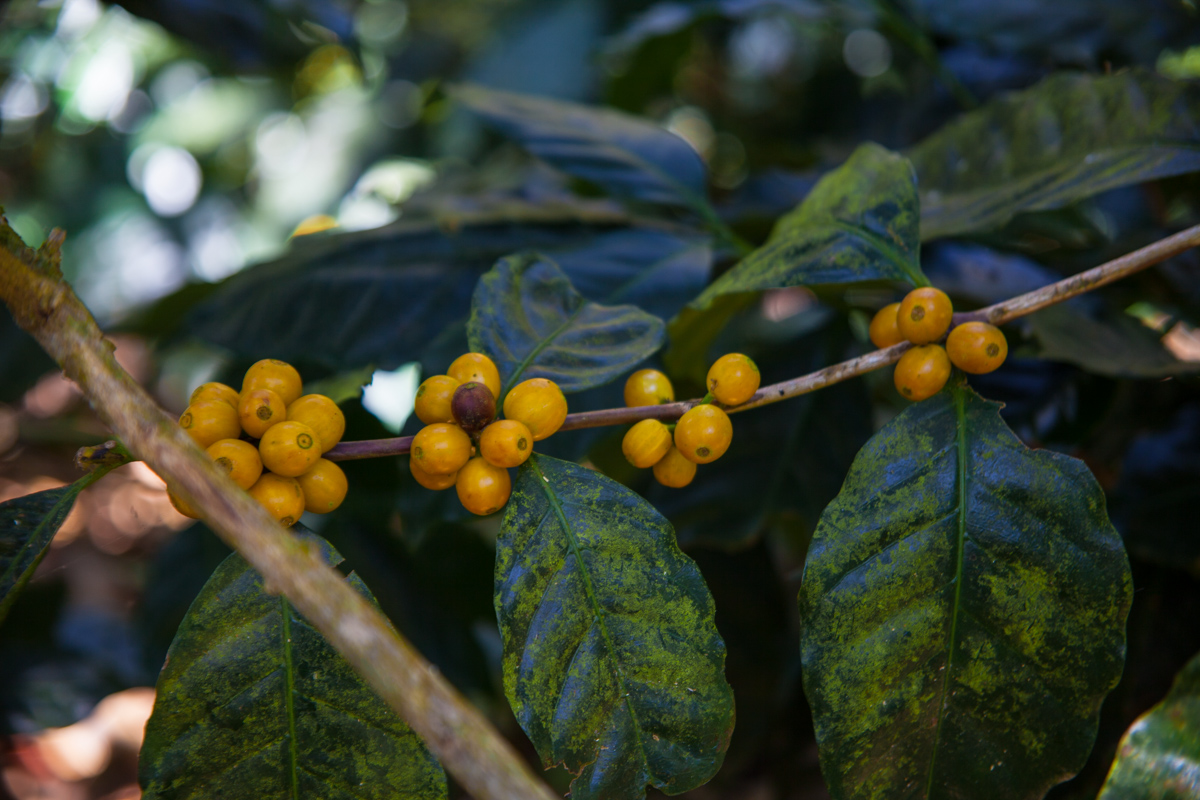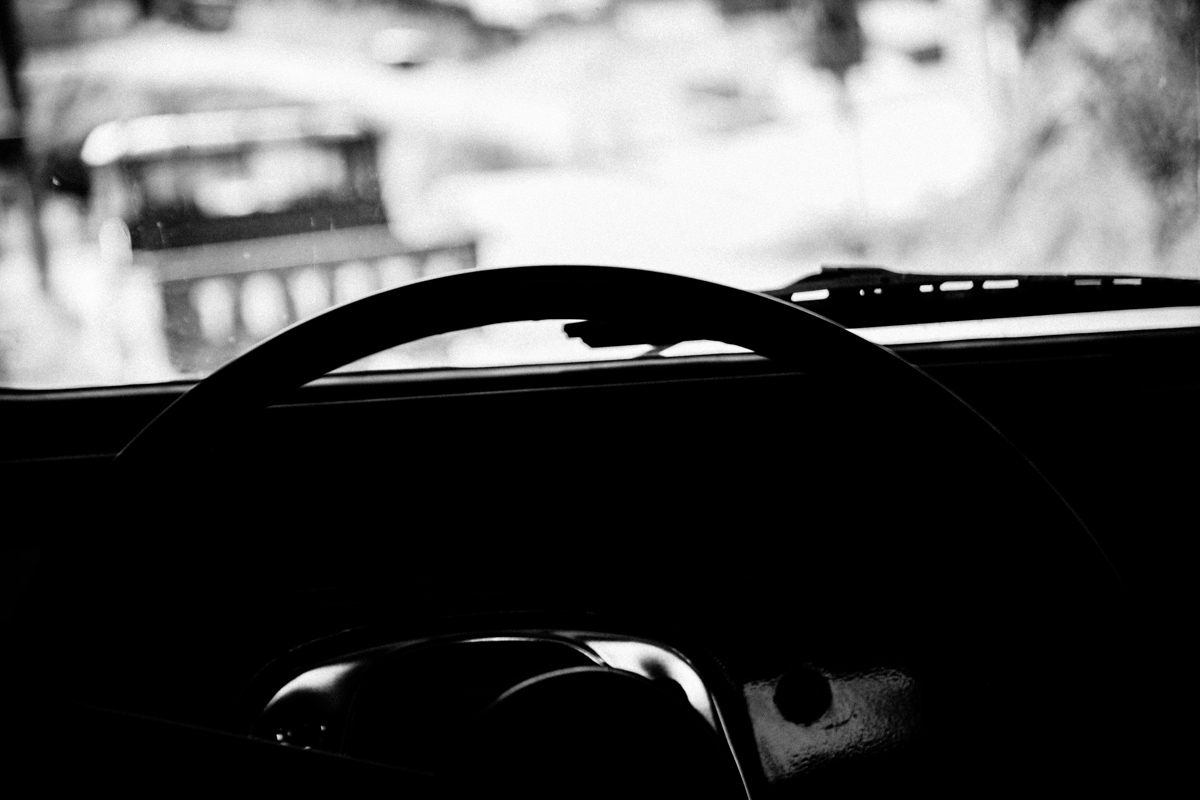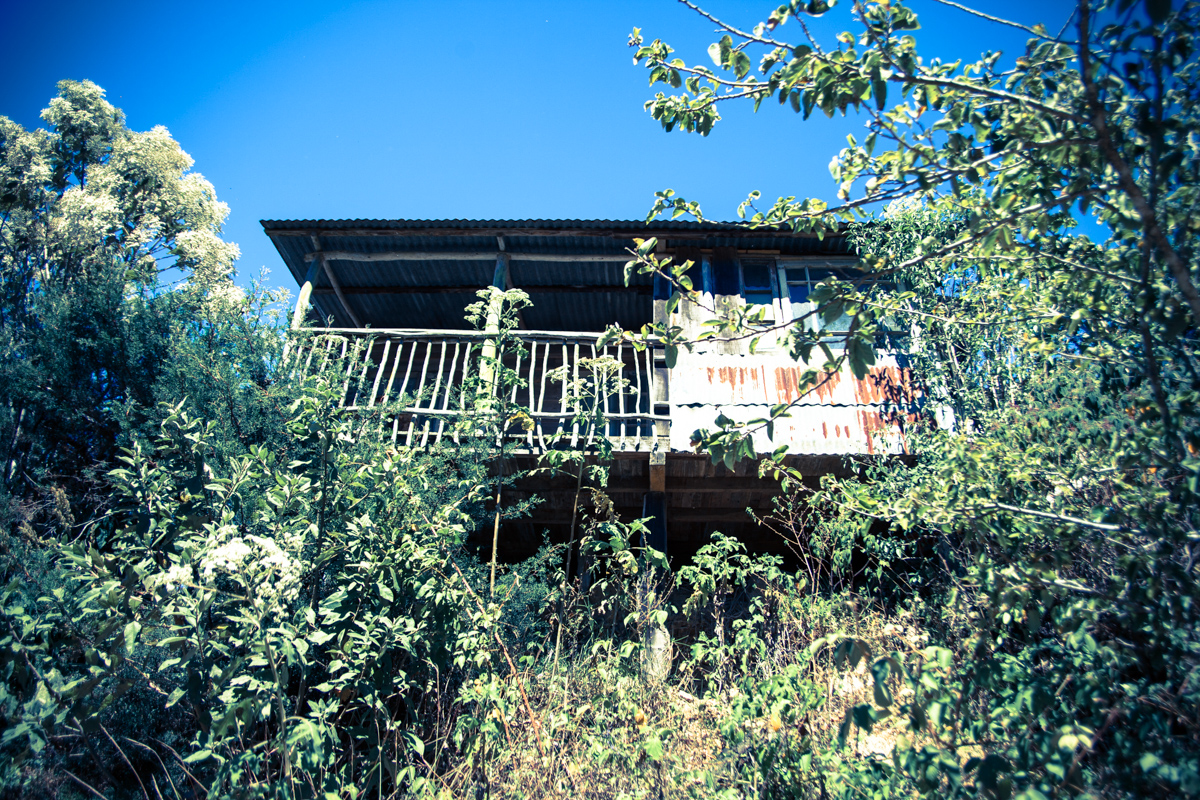 The remote and rustic homestead used by Luis at Santa Rosa during harvest season.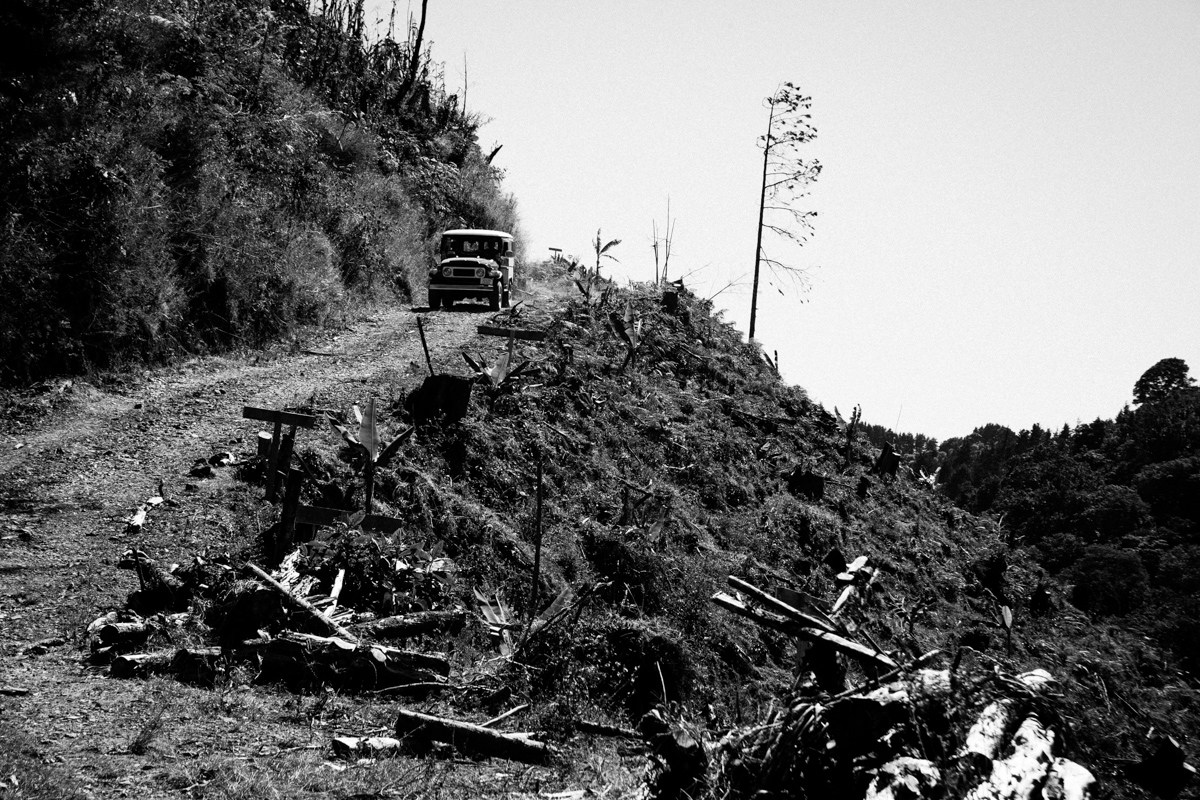 This hillside is where Luis has many experiments growing. We're continually impressed with his constant innovation.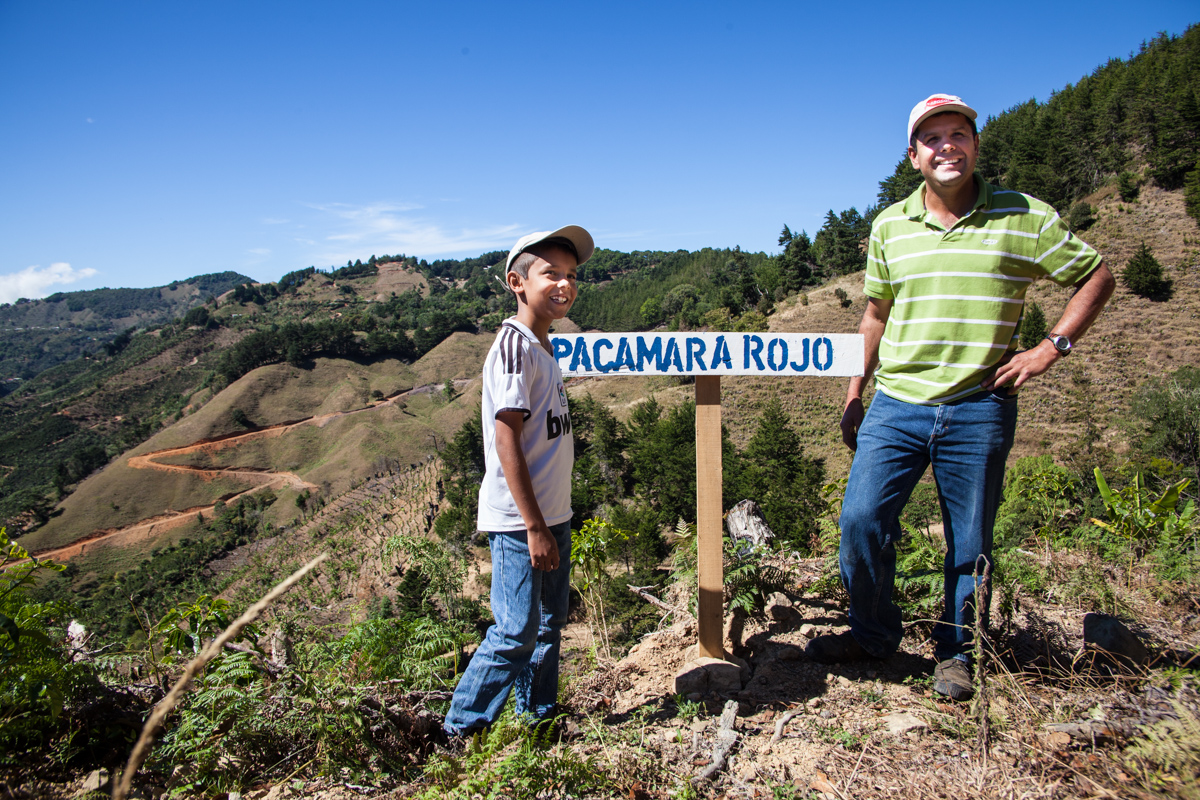 Luis Alberto and son Philippe who rode along with us for the trip. Us gringos had to say lo siento probably just a few too many times as we crushed him whilst bouncing around unrestrained in the rear of the Land Cruiser.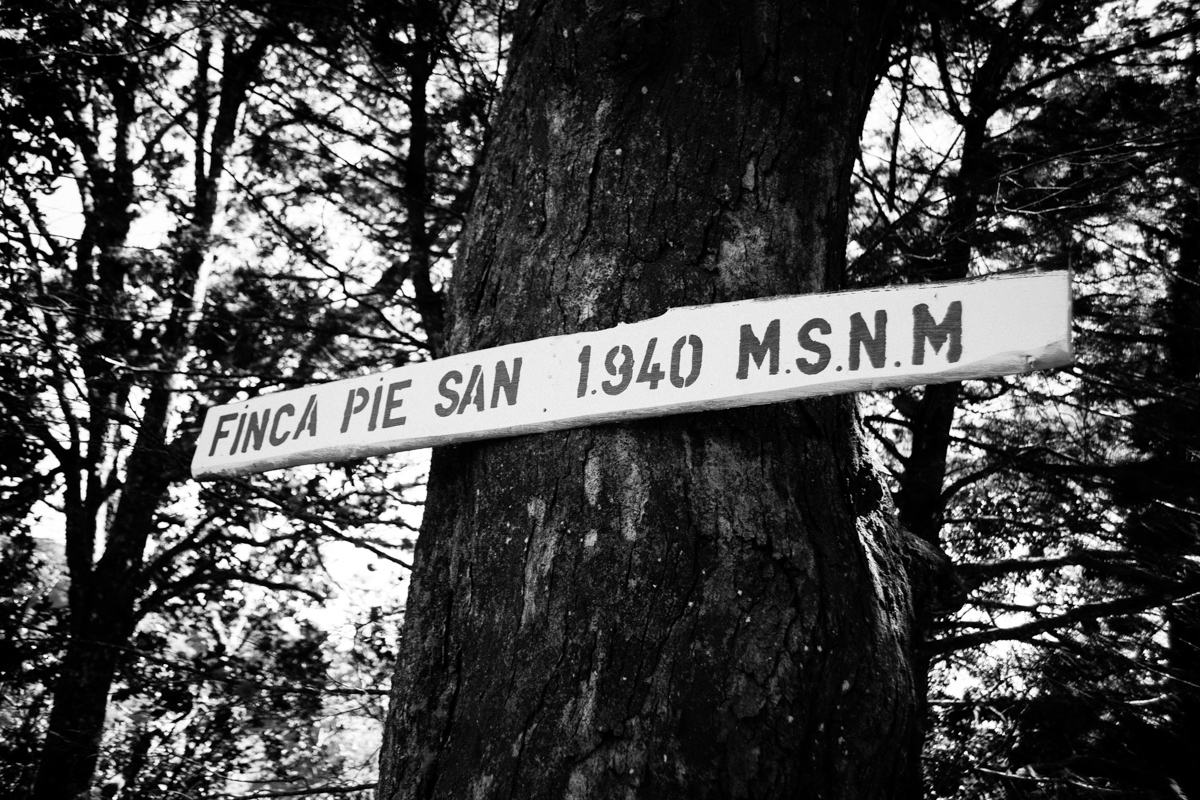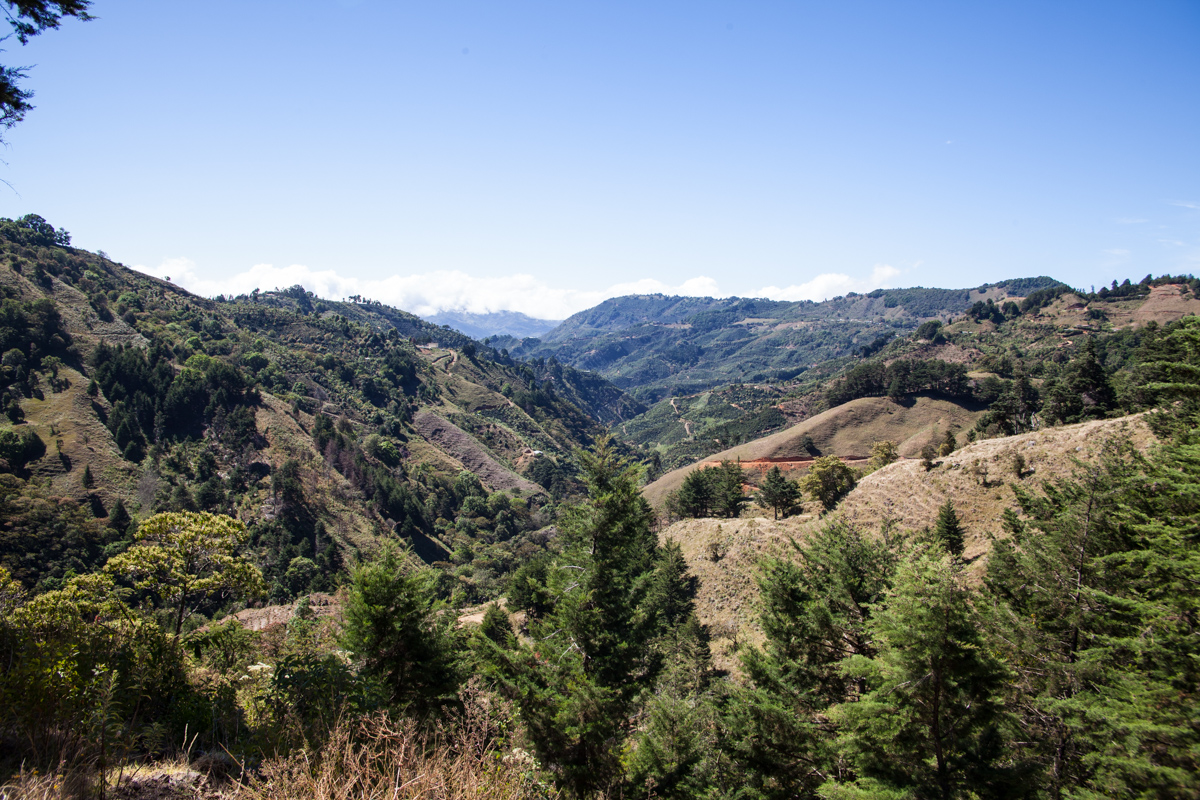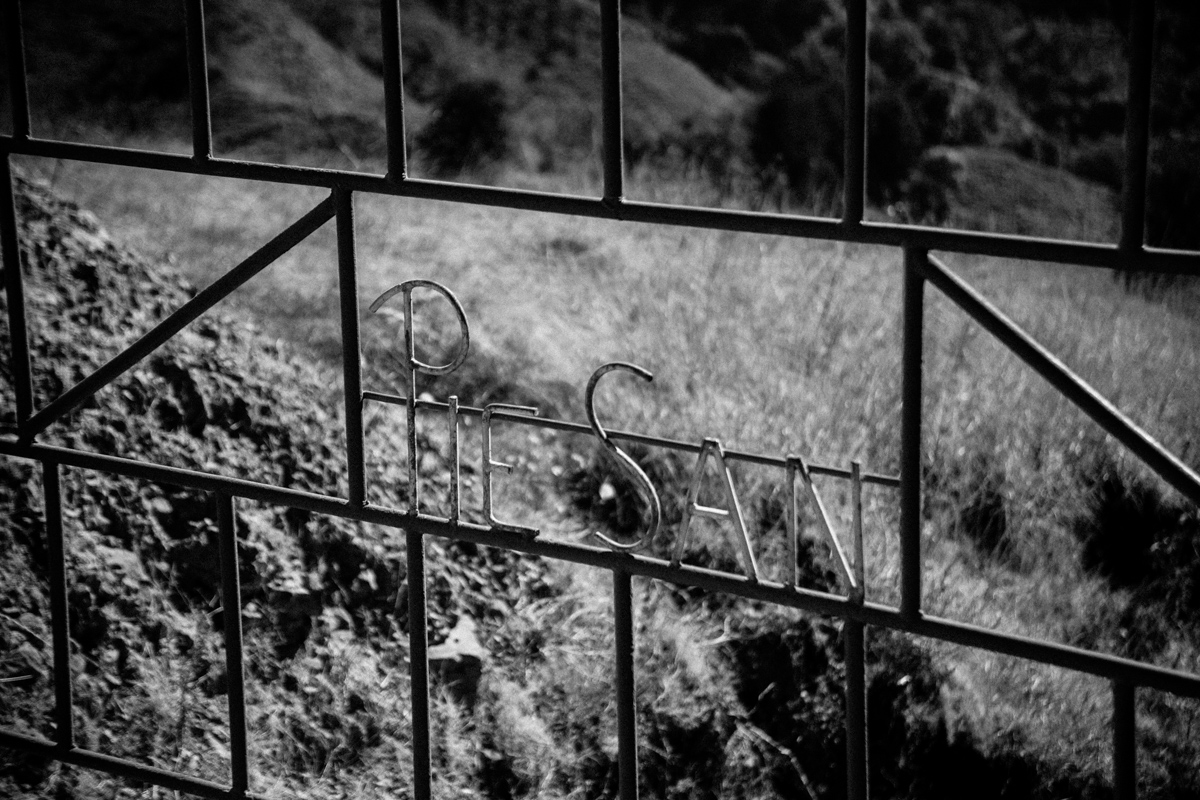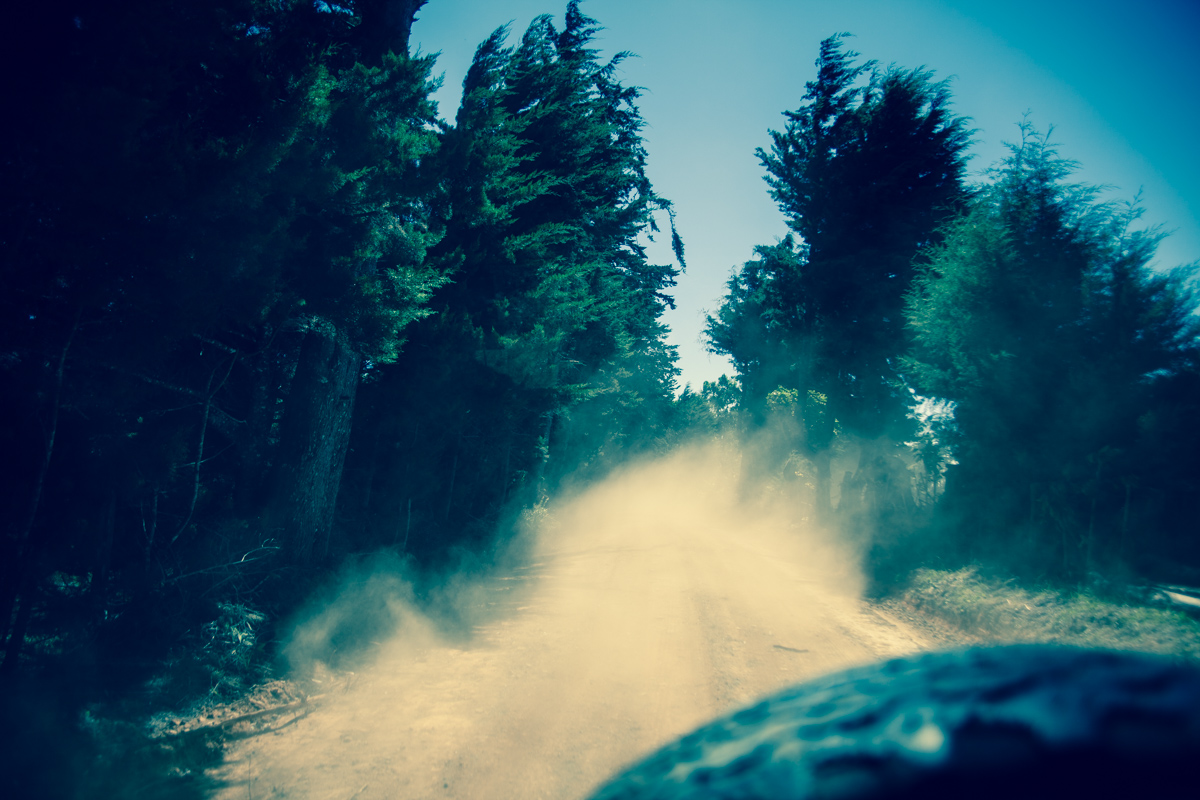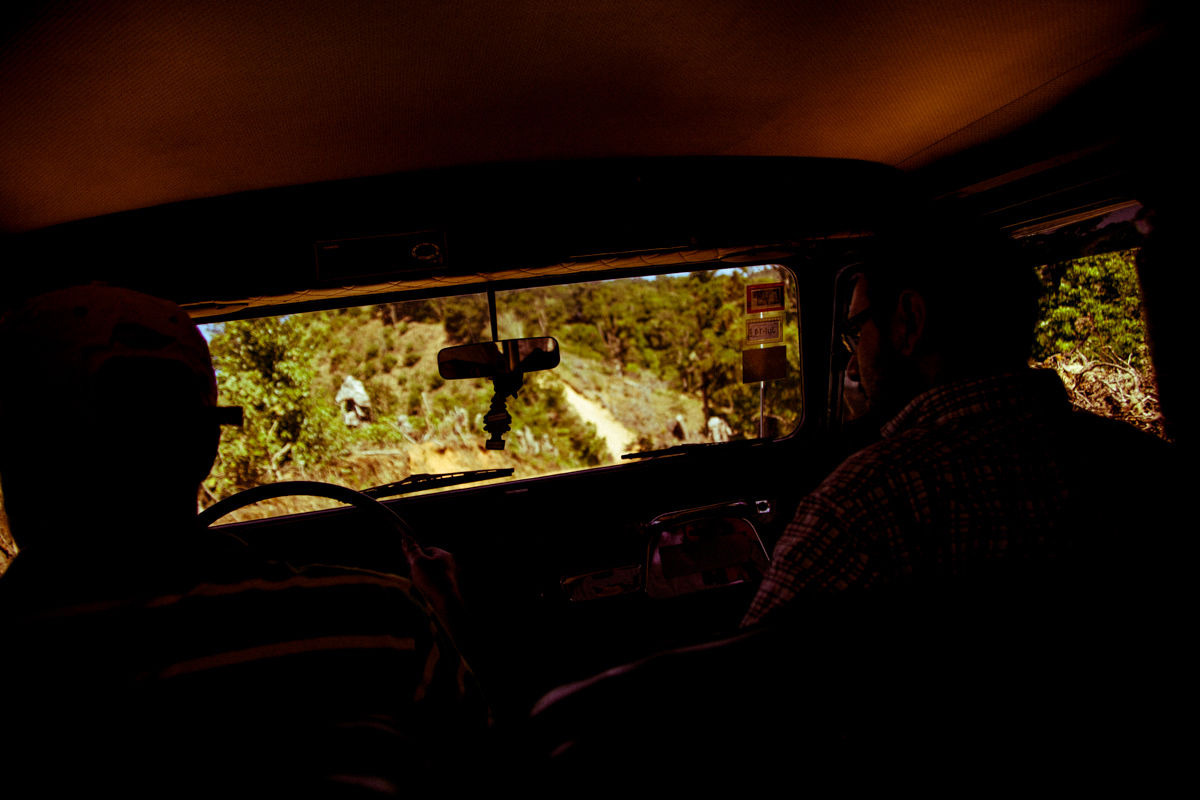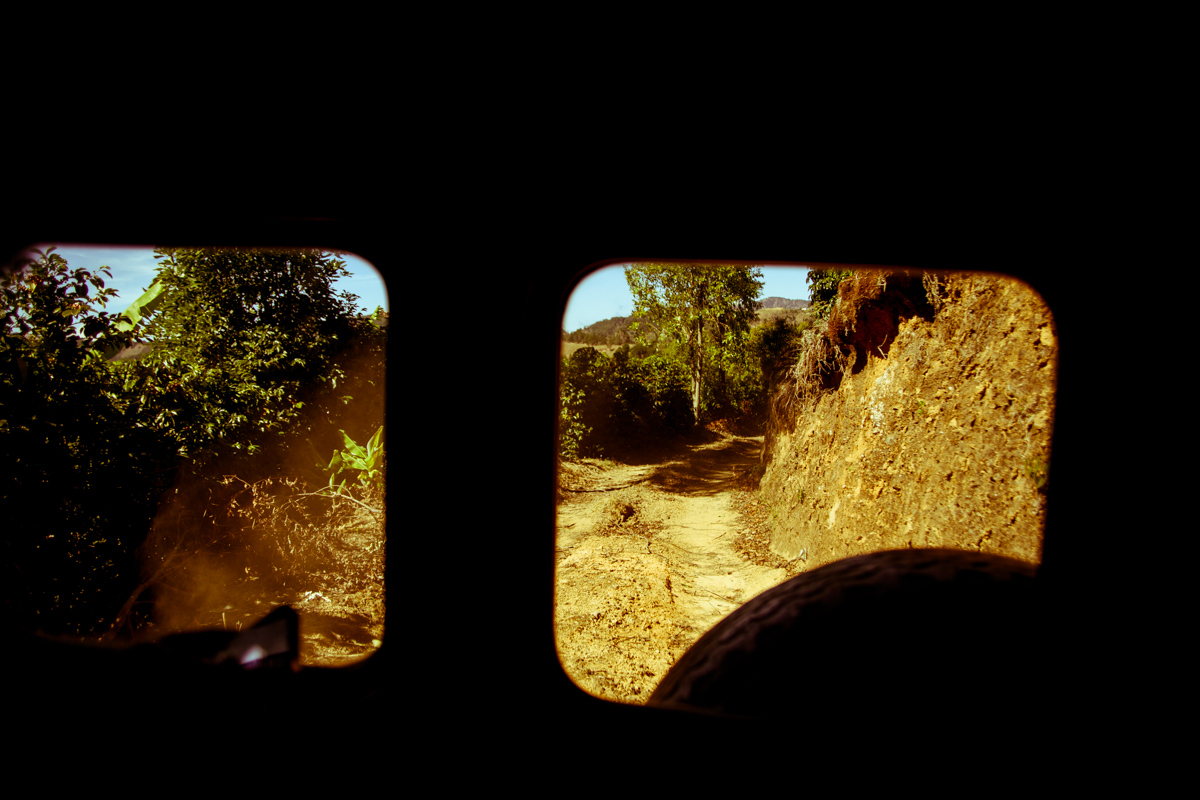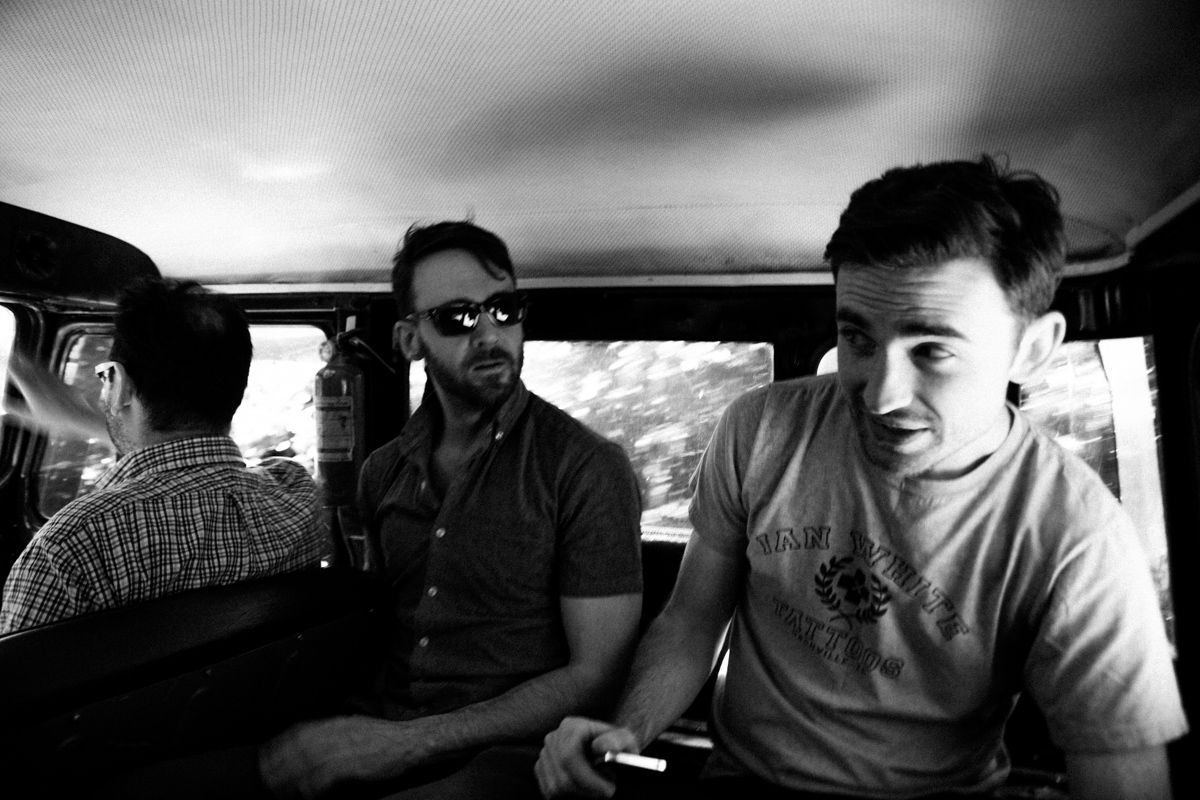 We bounce around in the back of the Land Cruiser which has been in Luis' family for three decades or more.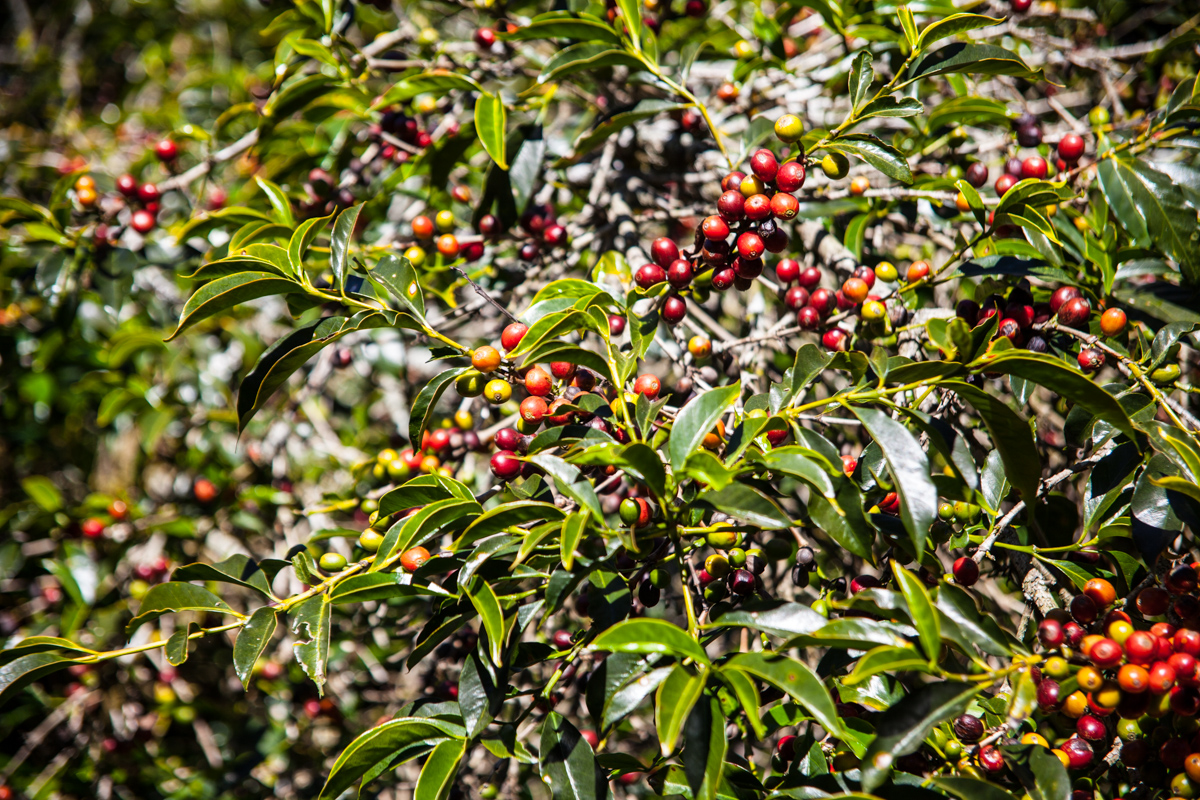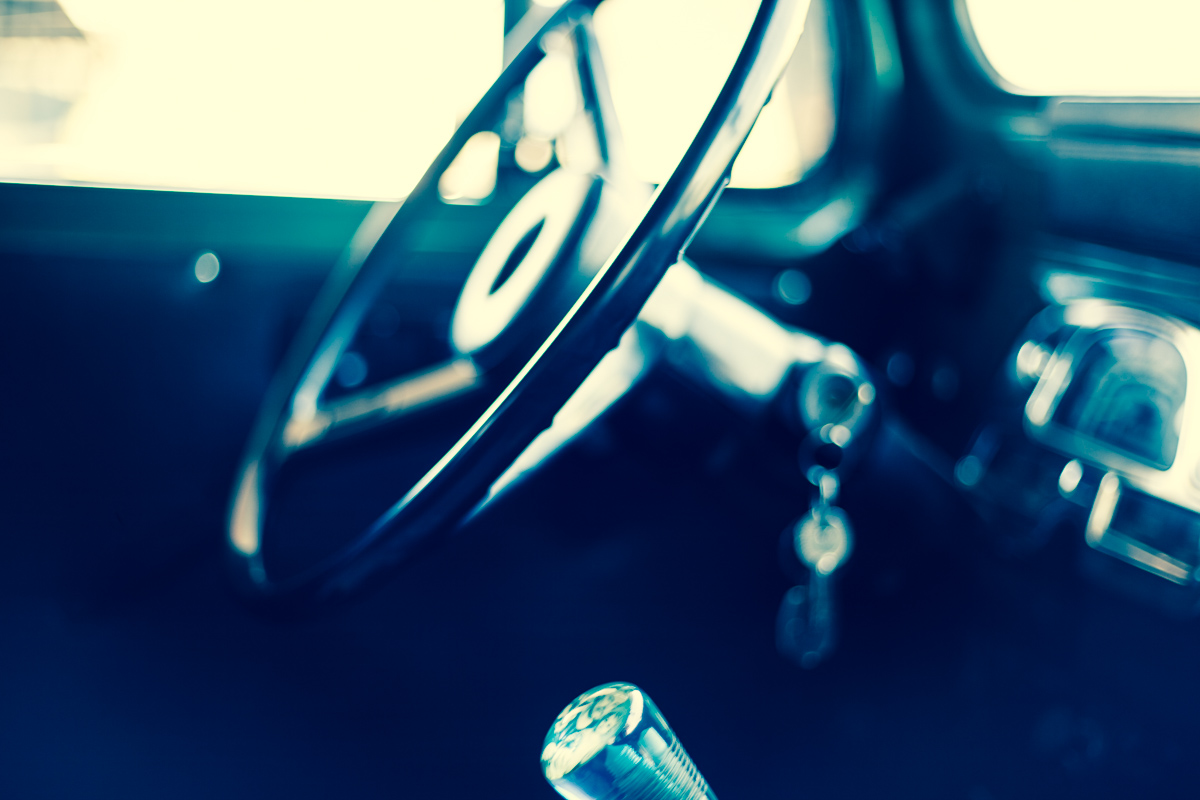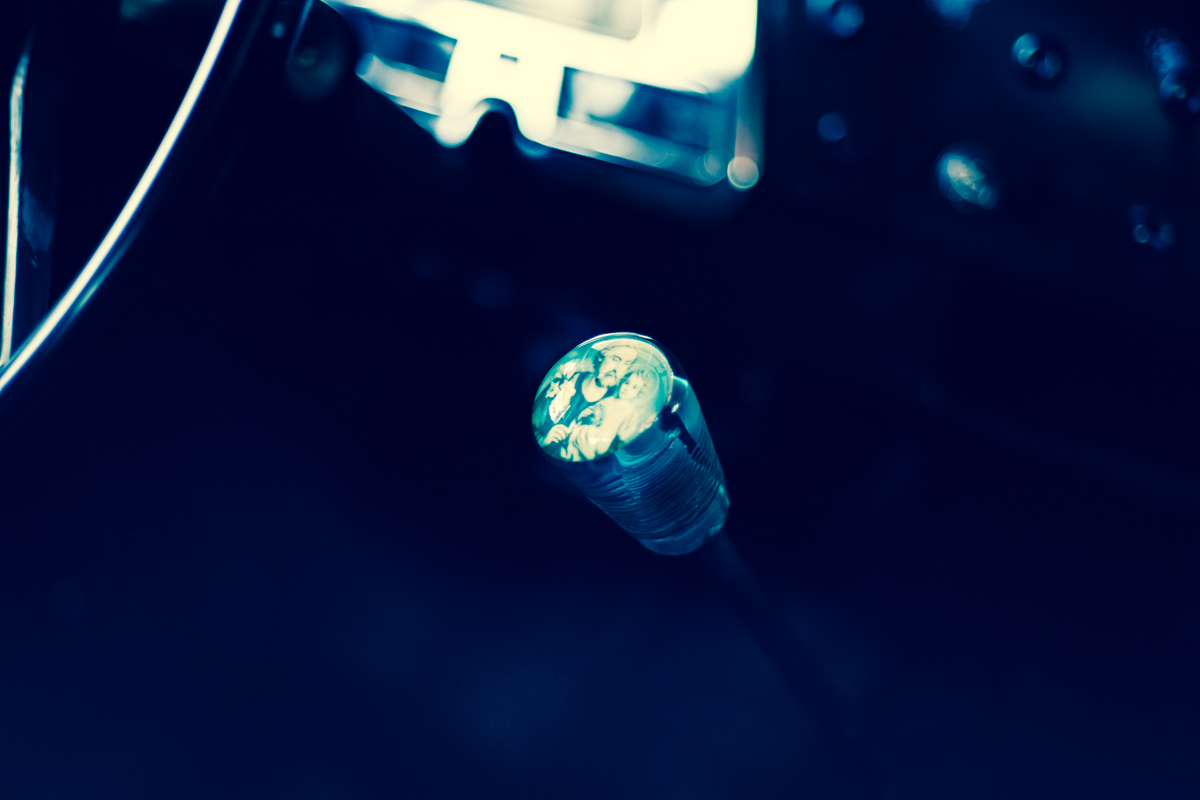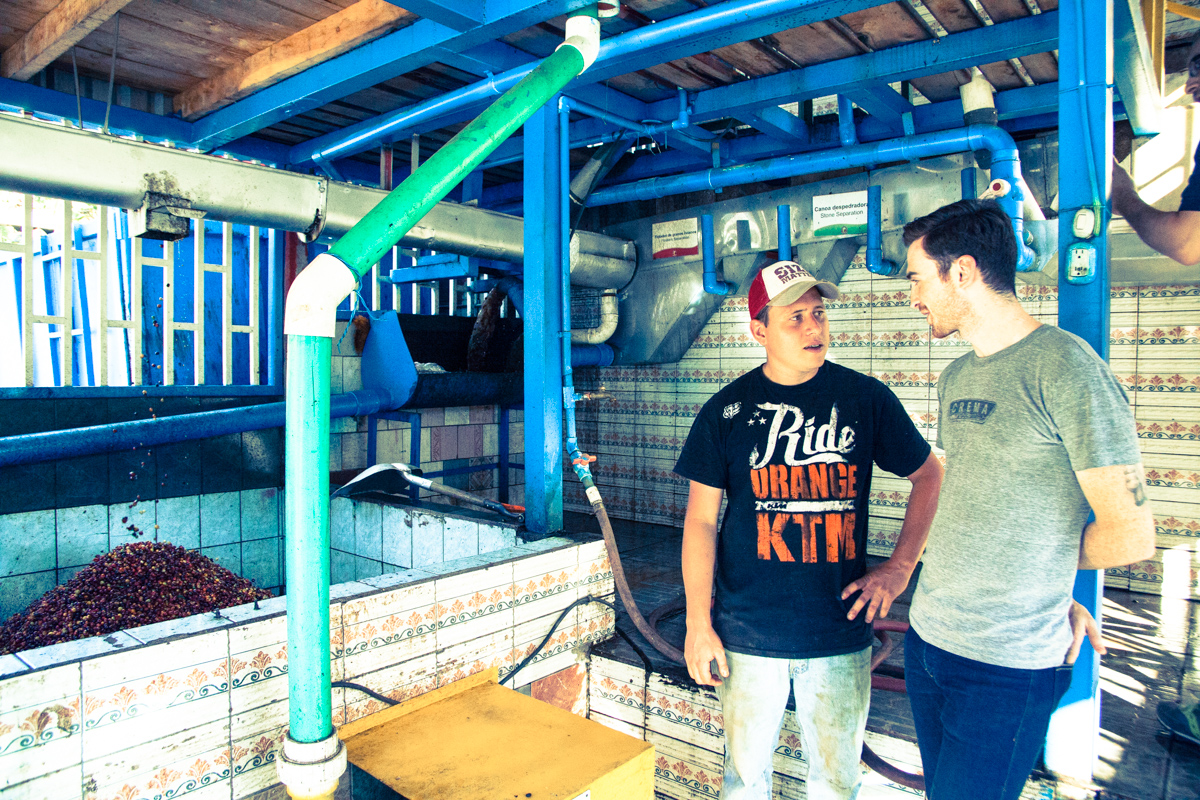 Sean talks shop with Josue, Don Mayo's son.
Coffee pulp collects from coffee cherry at the Don Mayo mill.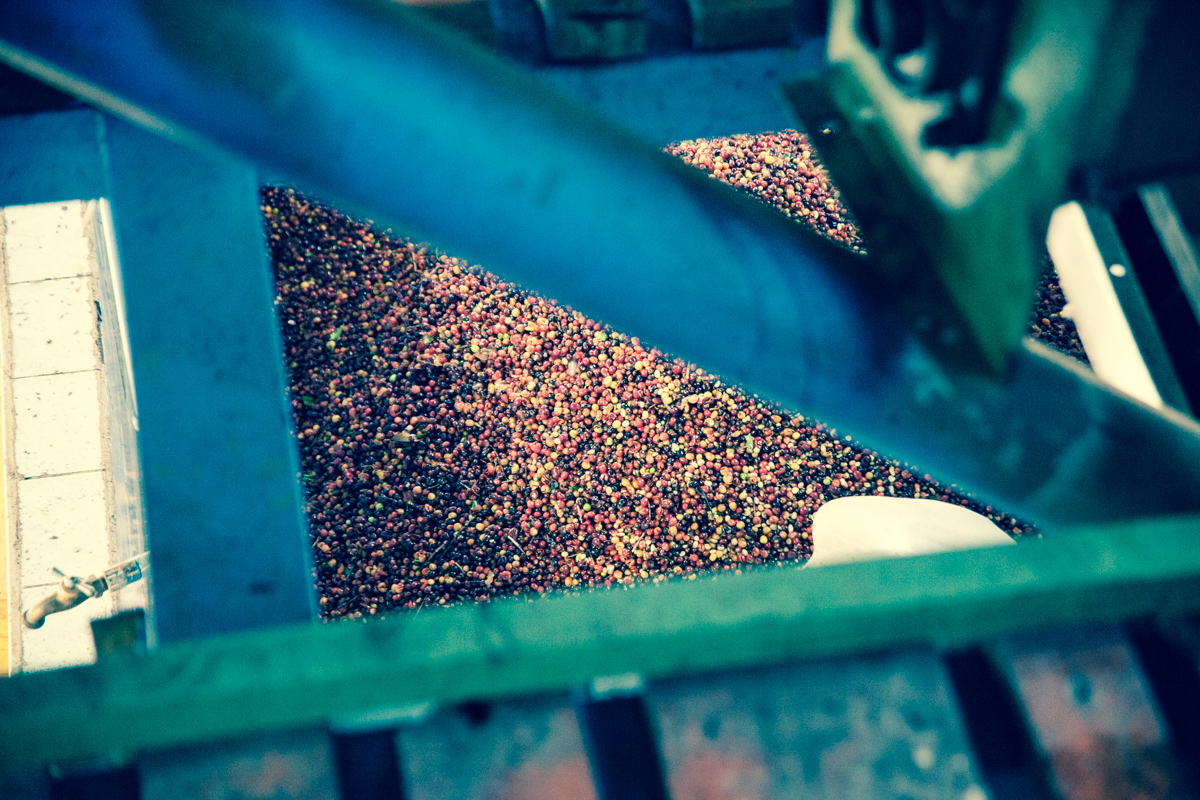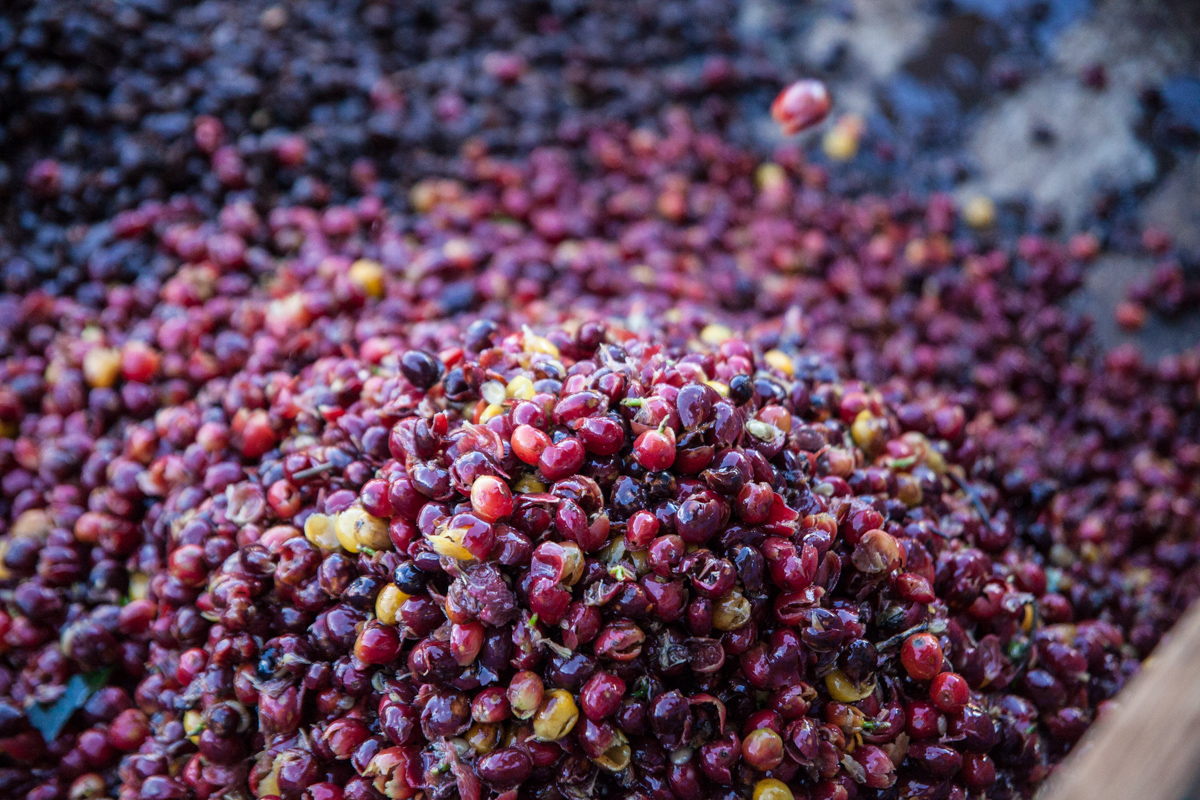 Pulp from processed coffee piles up.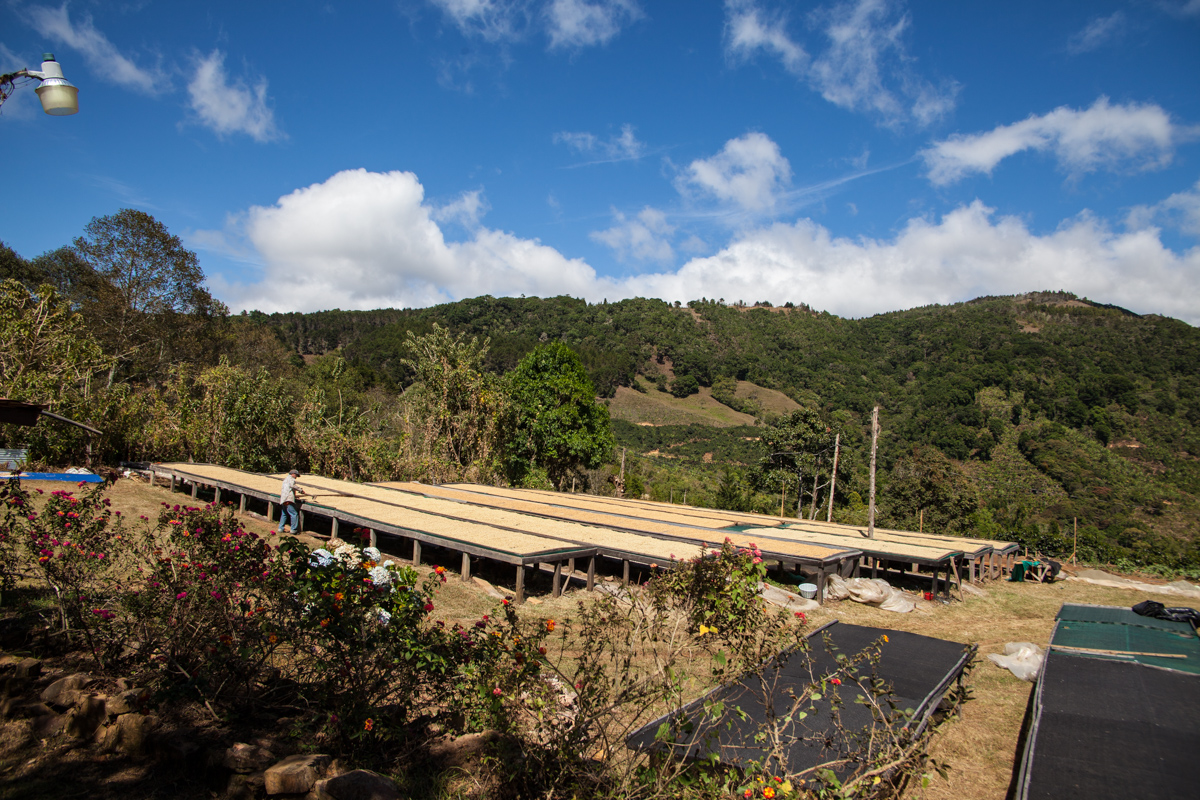 Typical view of African style drying coffee drying beds in Costa Rica. Keeping the coffee cherry up off the ground during sun drying aids in more consistent drying.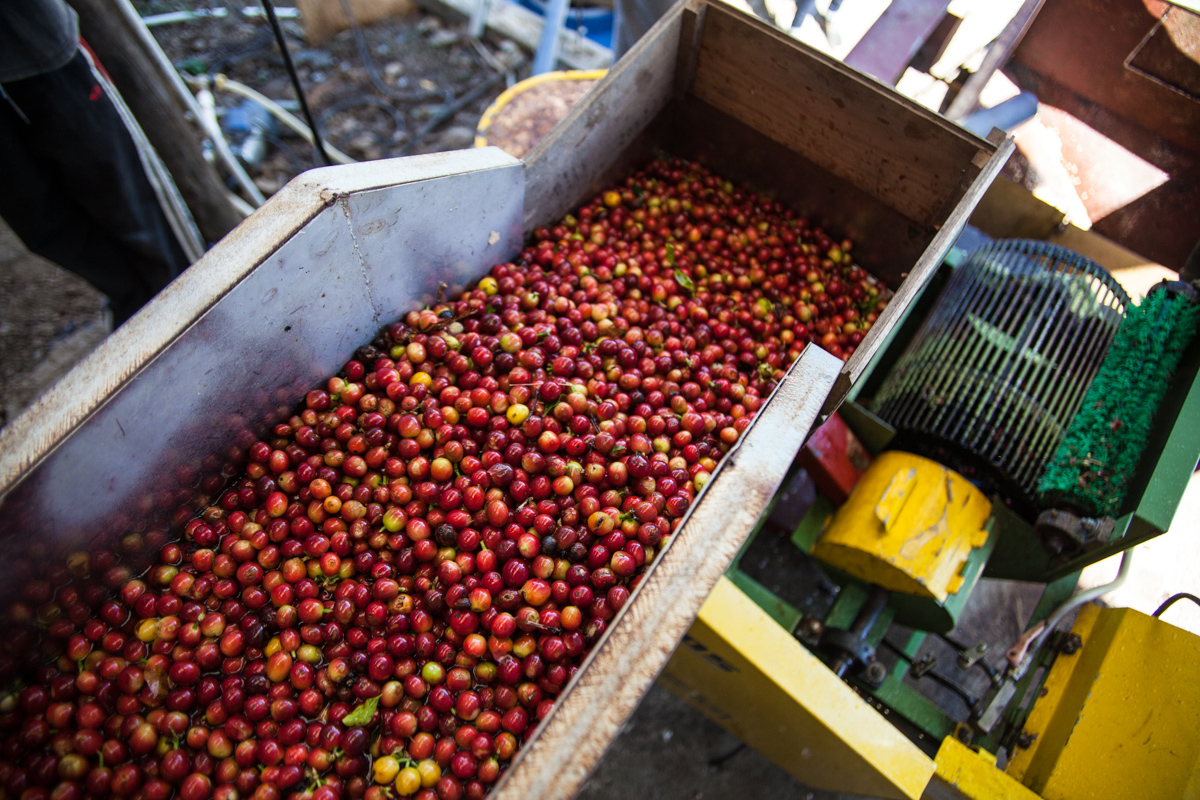 Fresh picked coffee cherry comes down the shoot to be processed at a primitive mill in Costa Rica.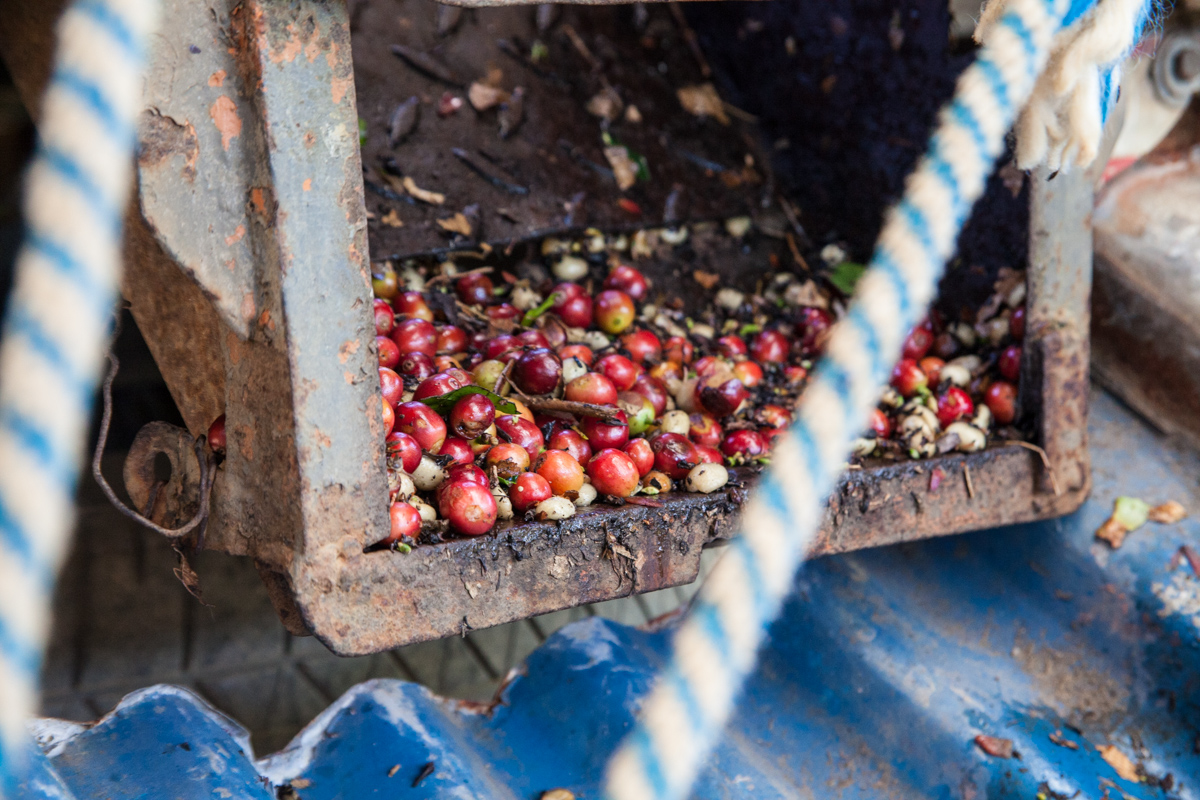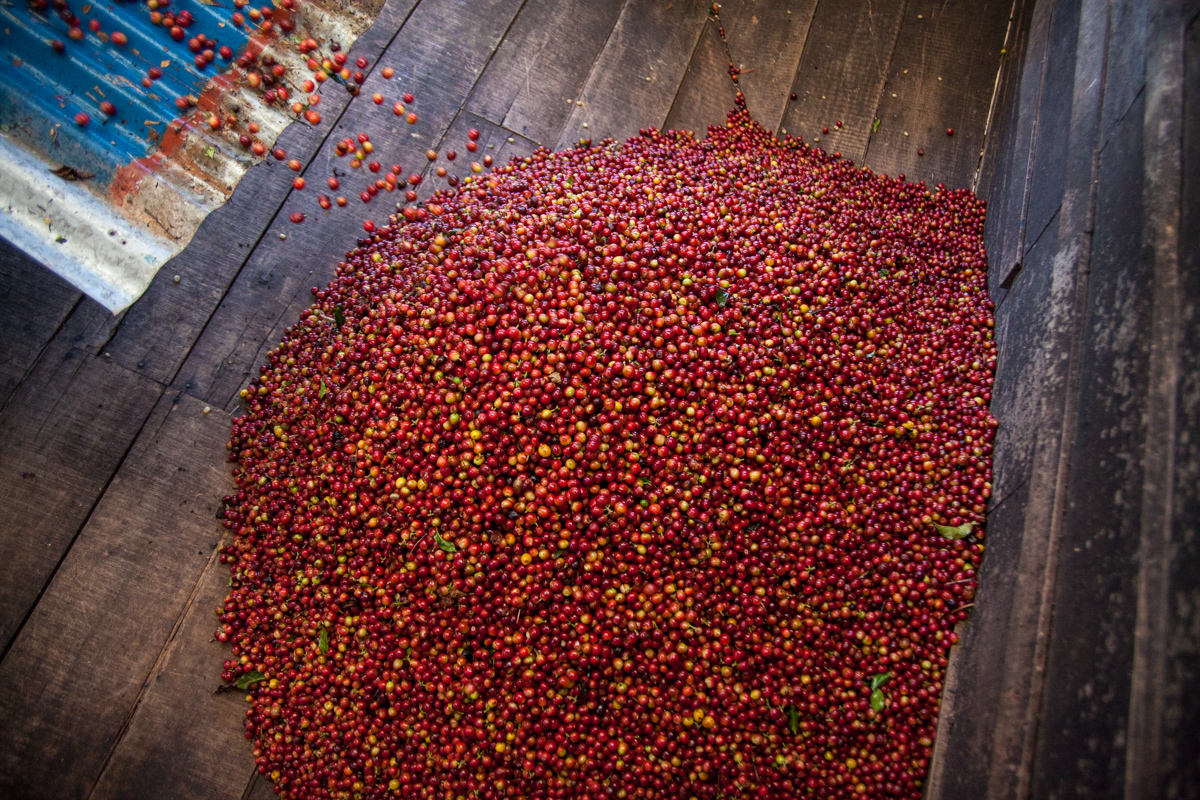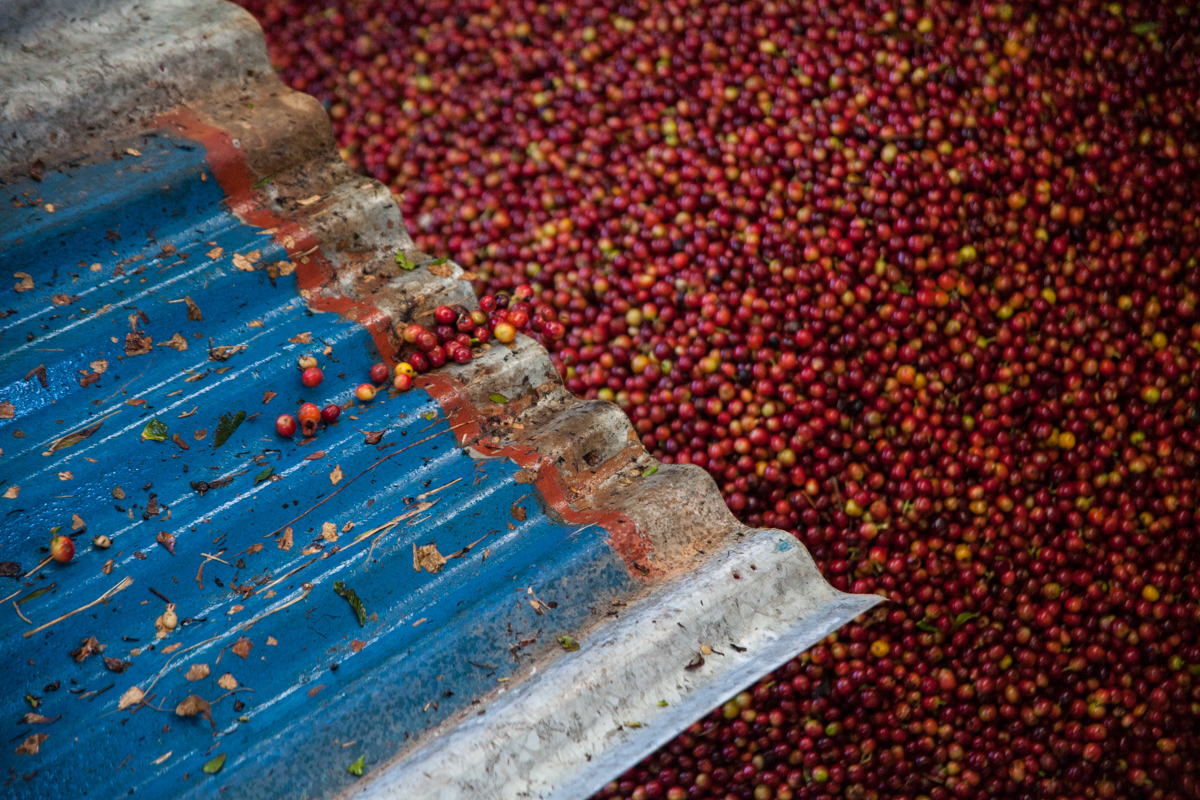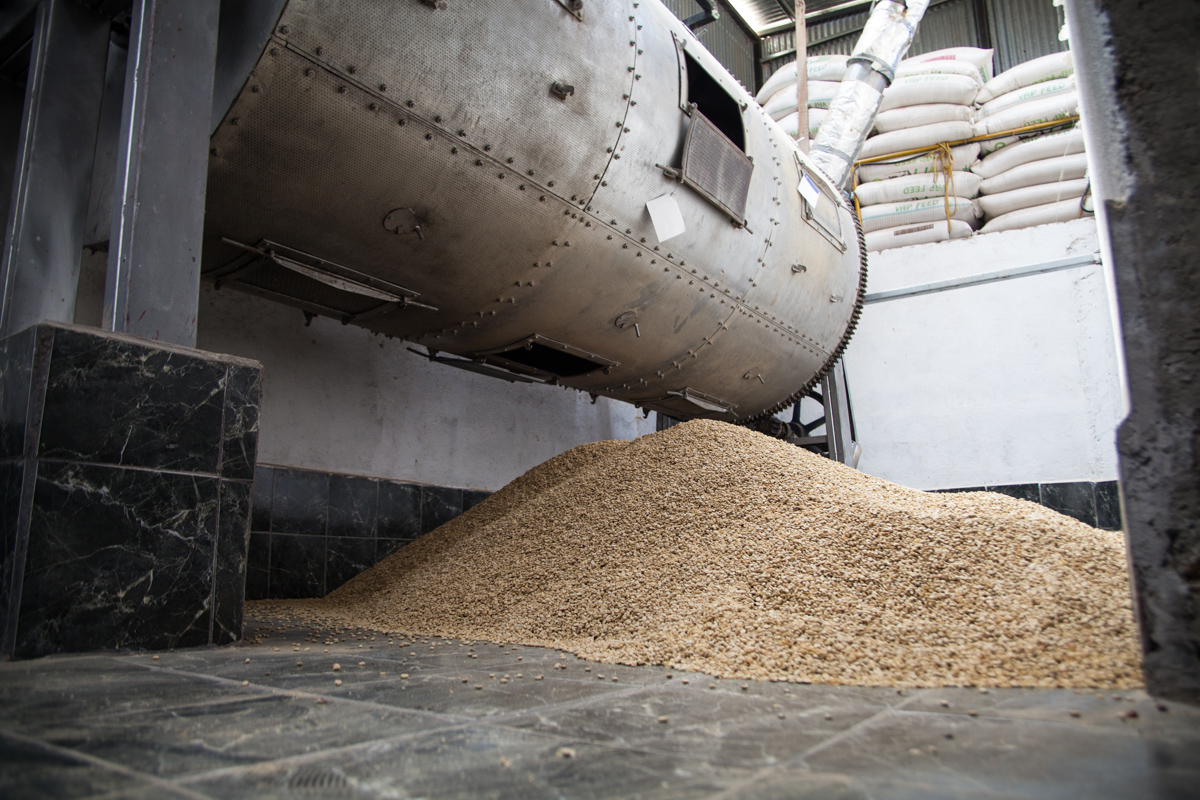 Mechanical dryers are being used more often in Costa Rica because farmers can better create consistent drying temps. Often heated by wood and steam.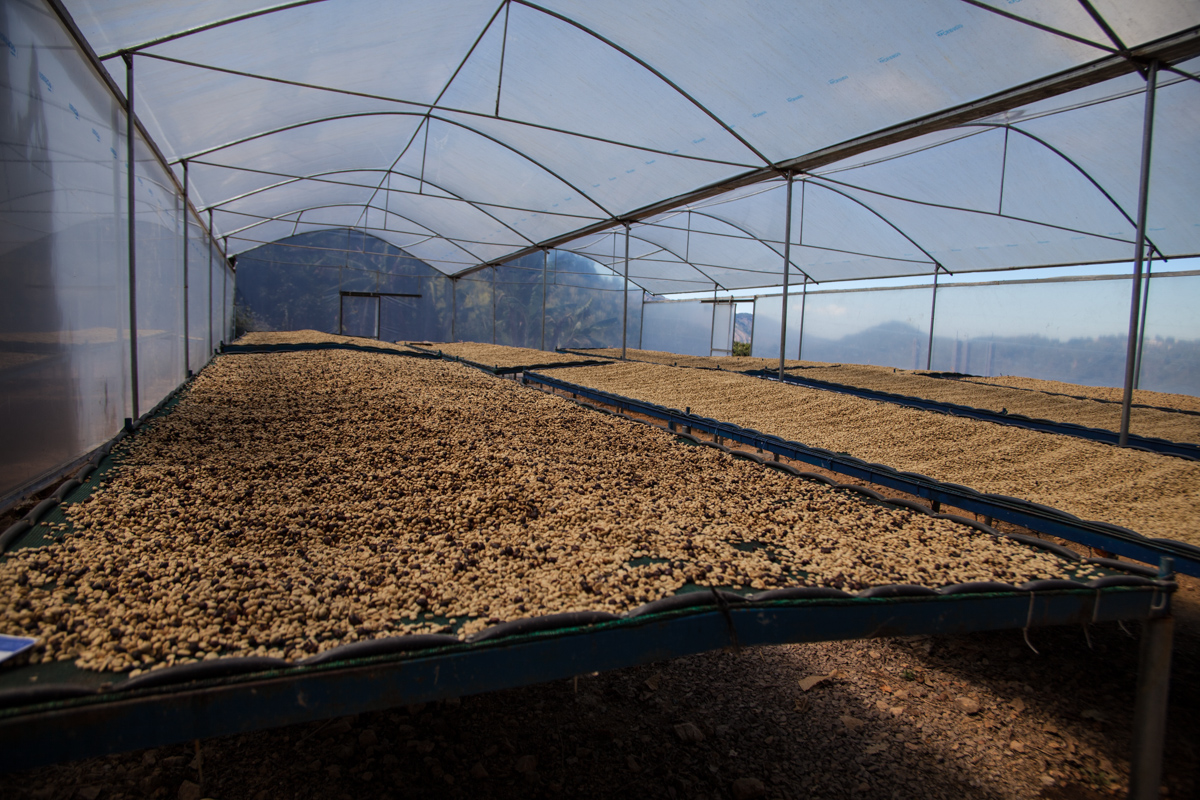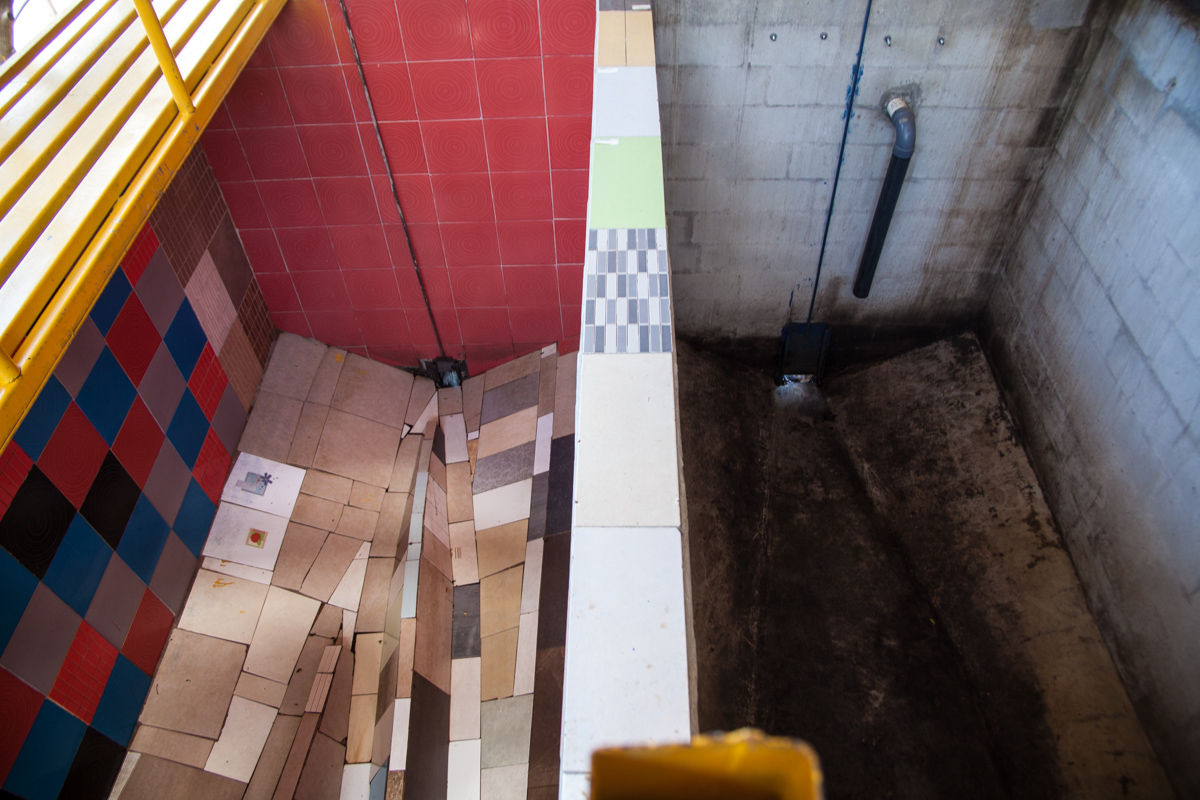 A typical first holding and sorting tank at a wet mill.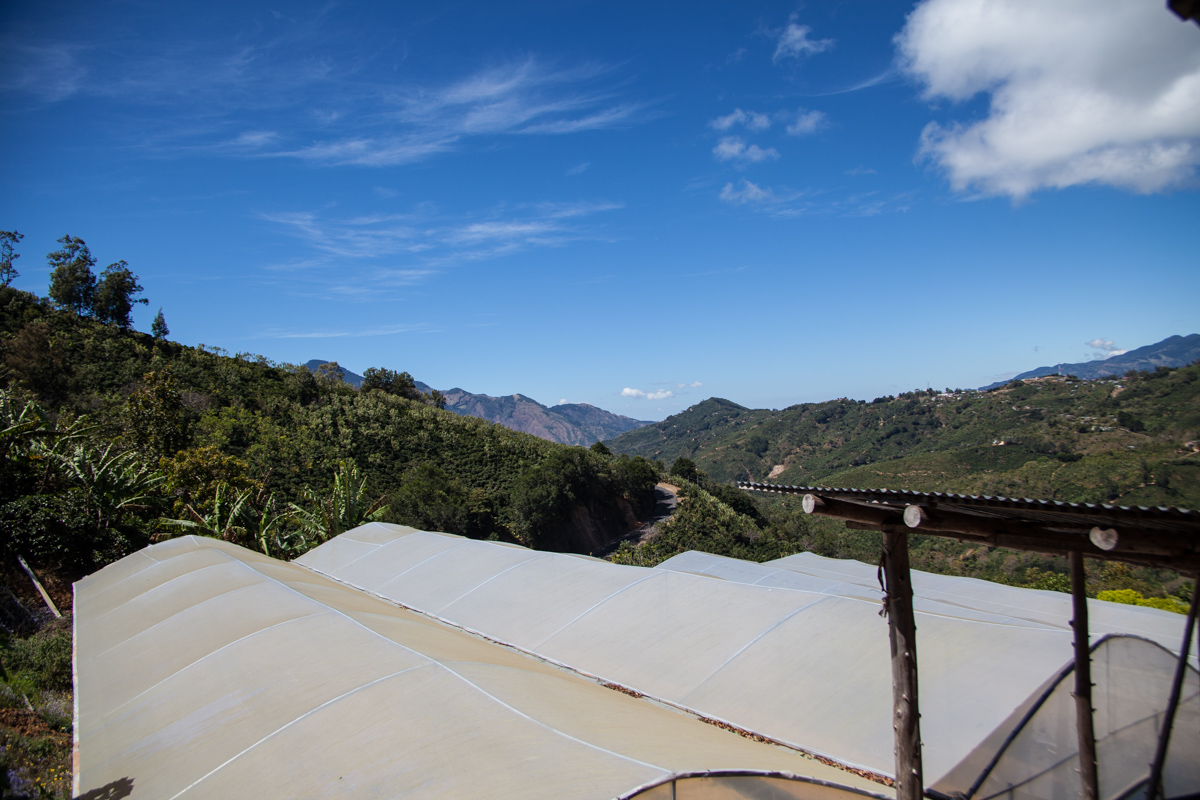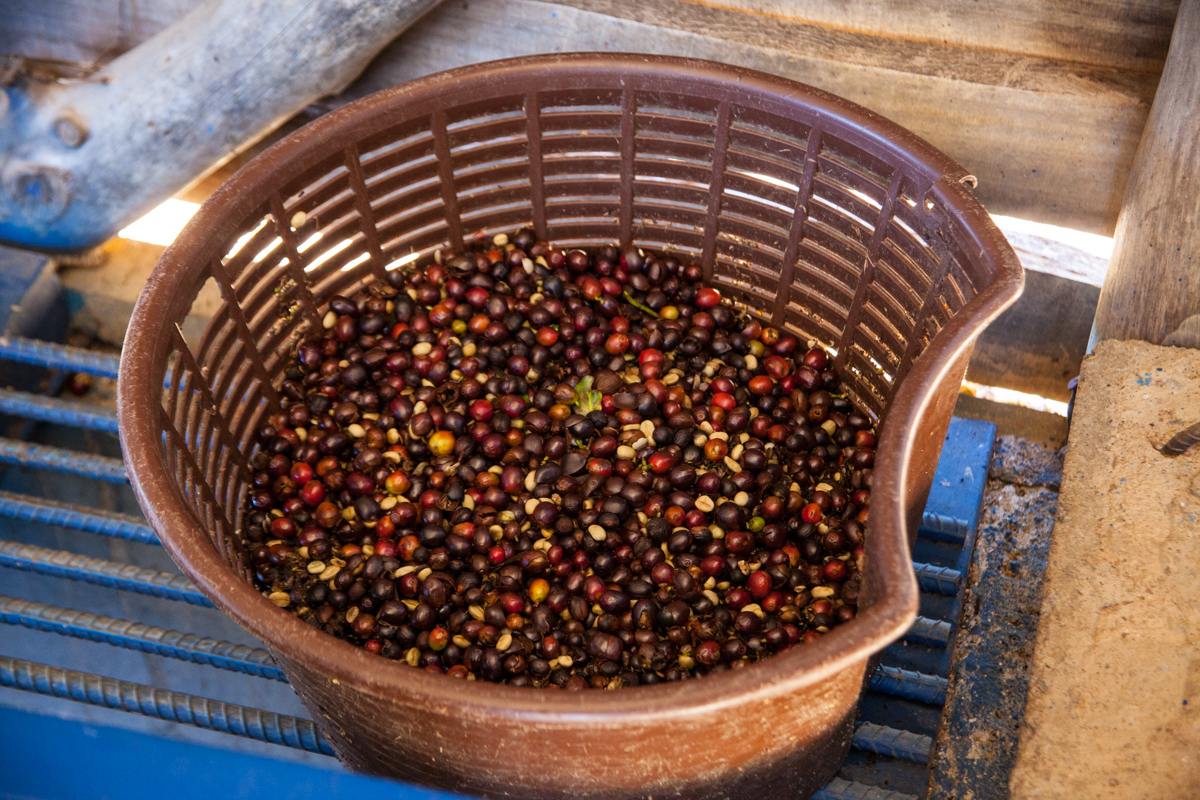 Notice the inconsistency in these coffee cherries, these have been rejected for speciality grade coffee and will be used in country.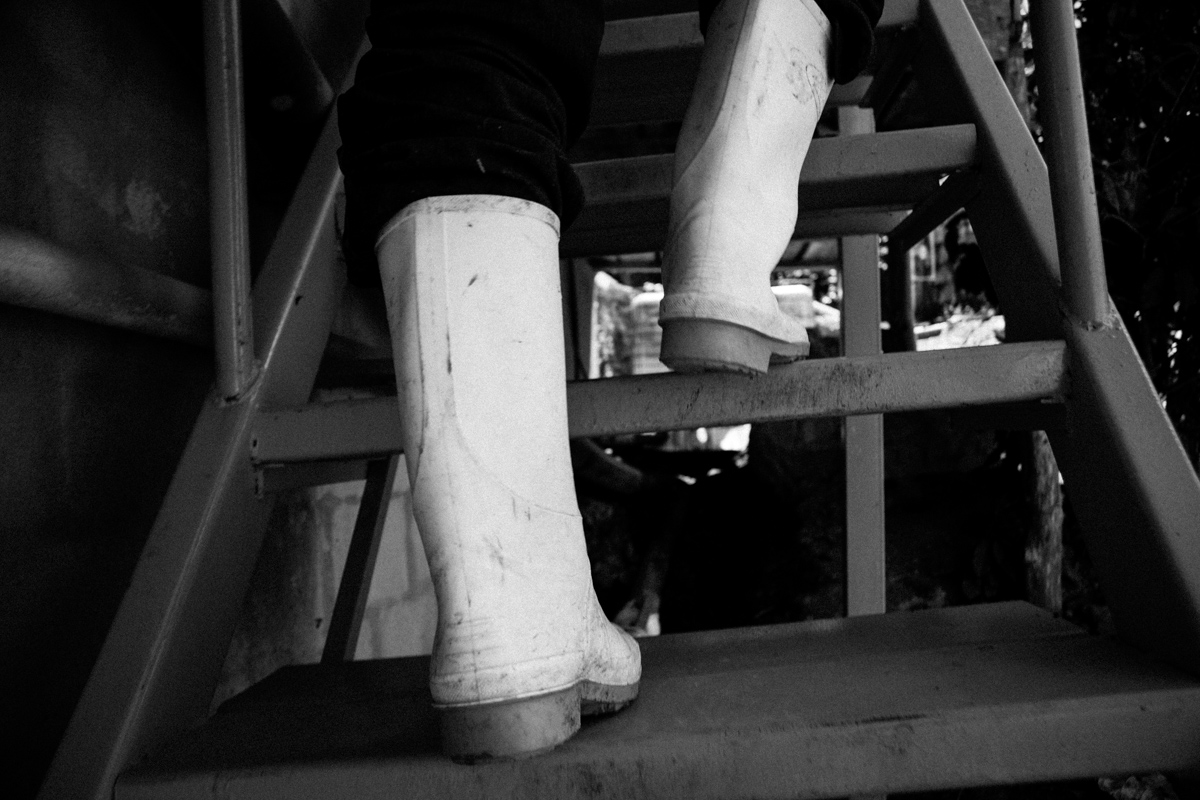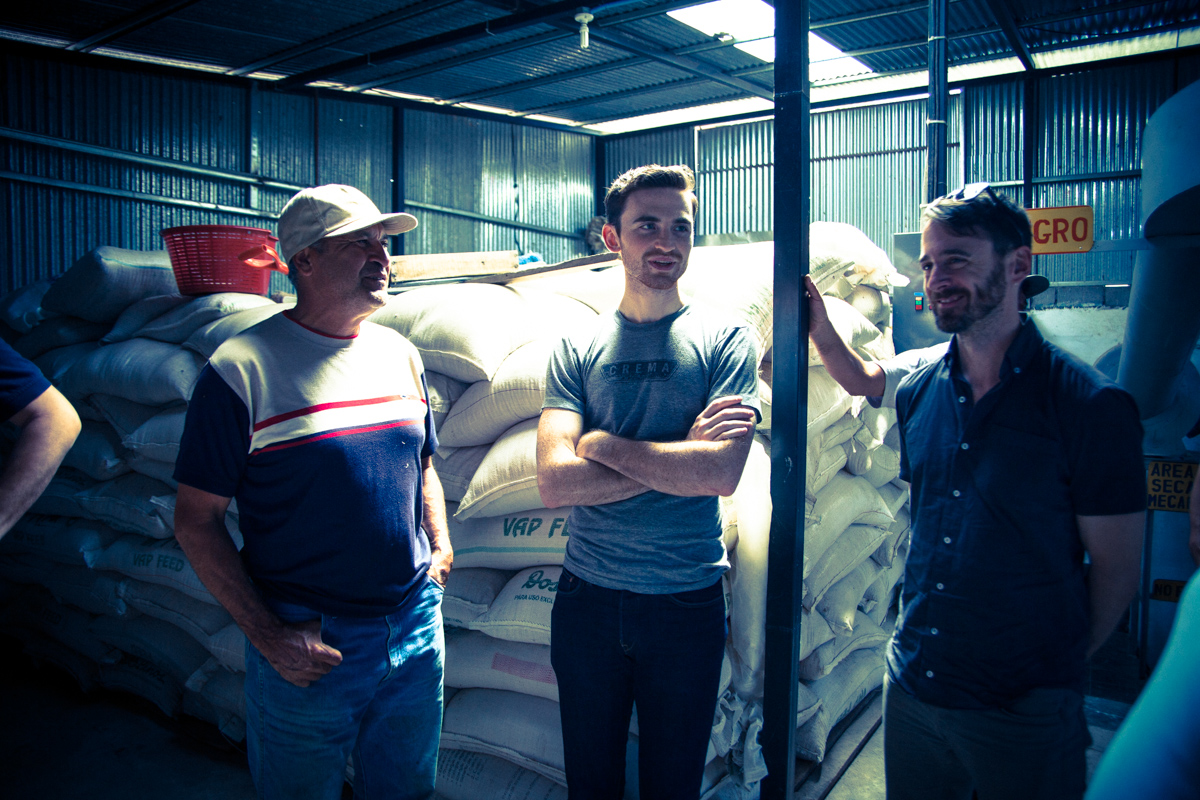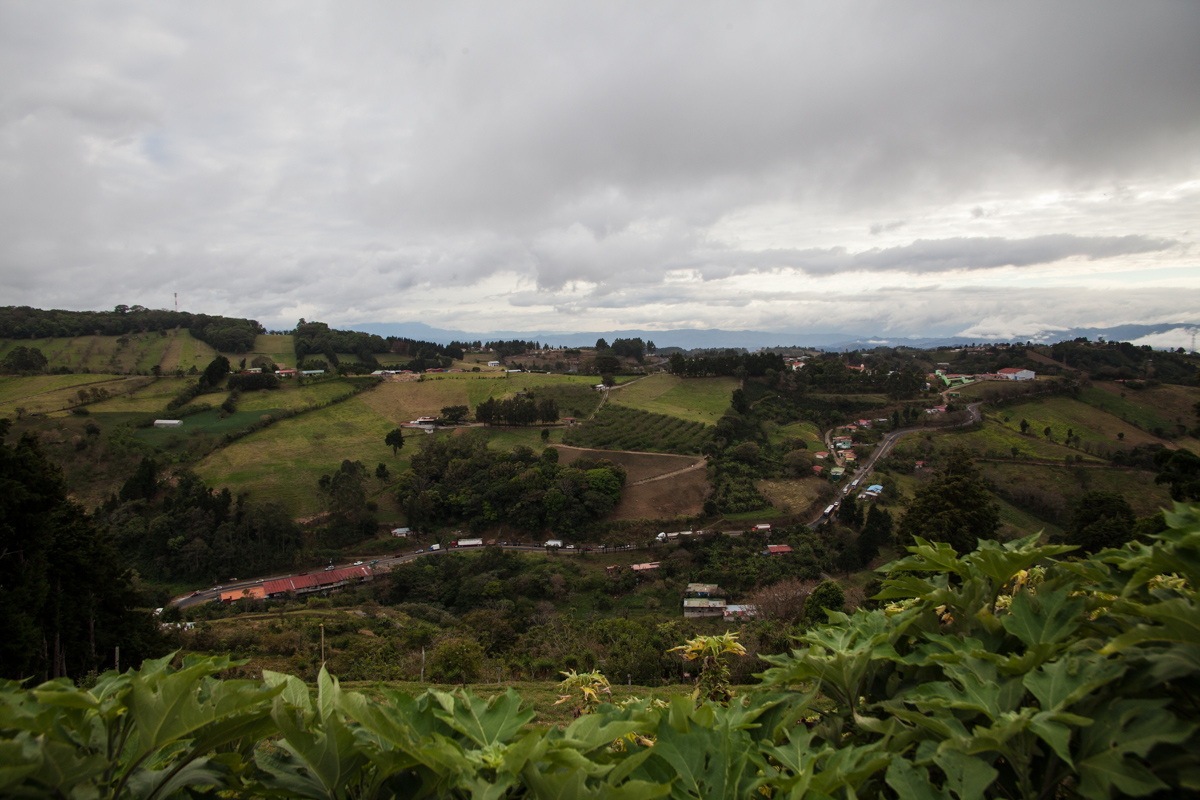 We pause to take in the view of the Tarrazu region, Costa Rica.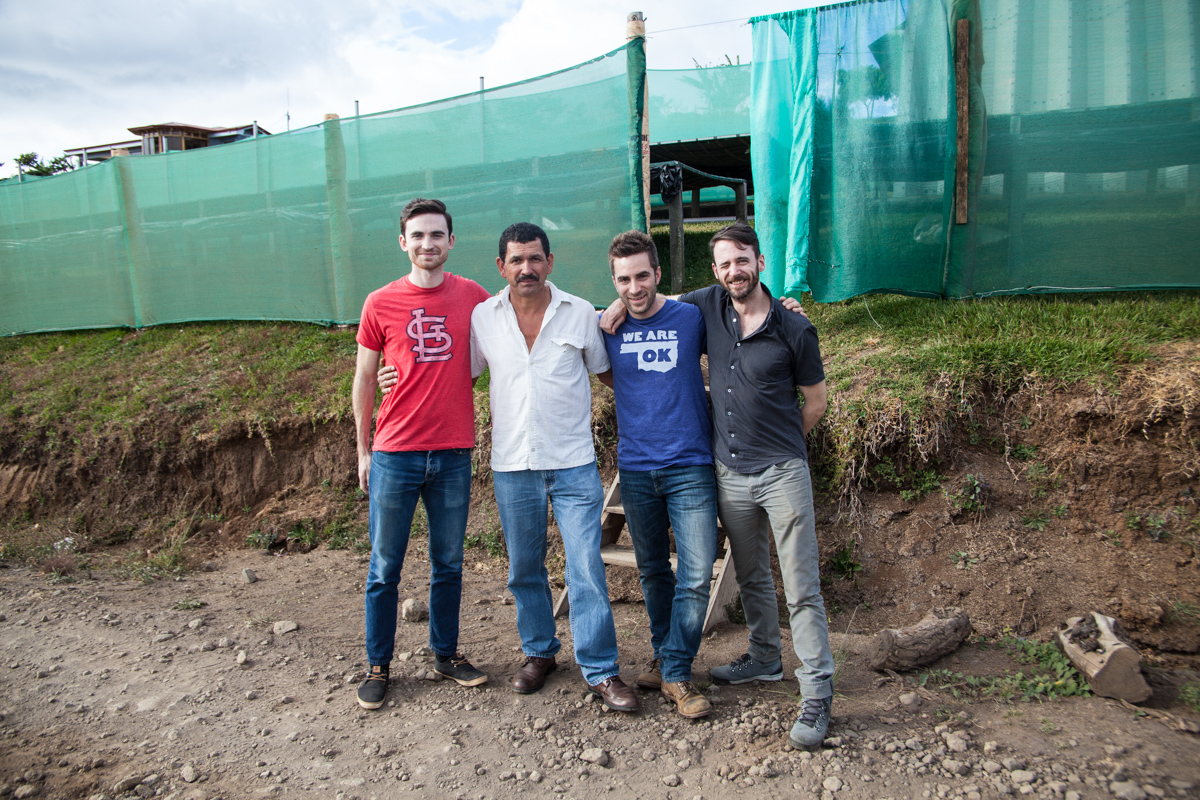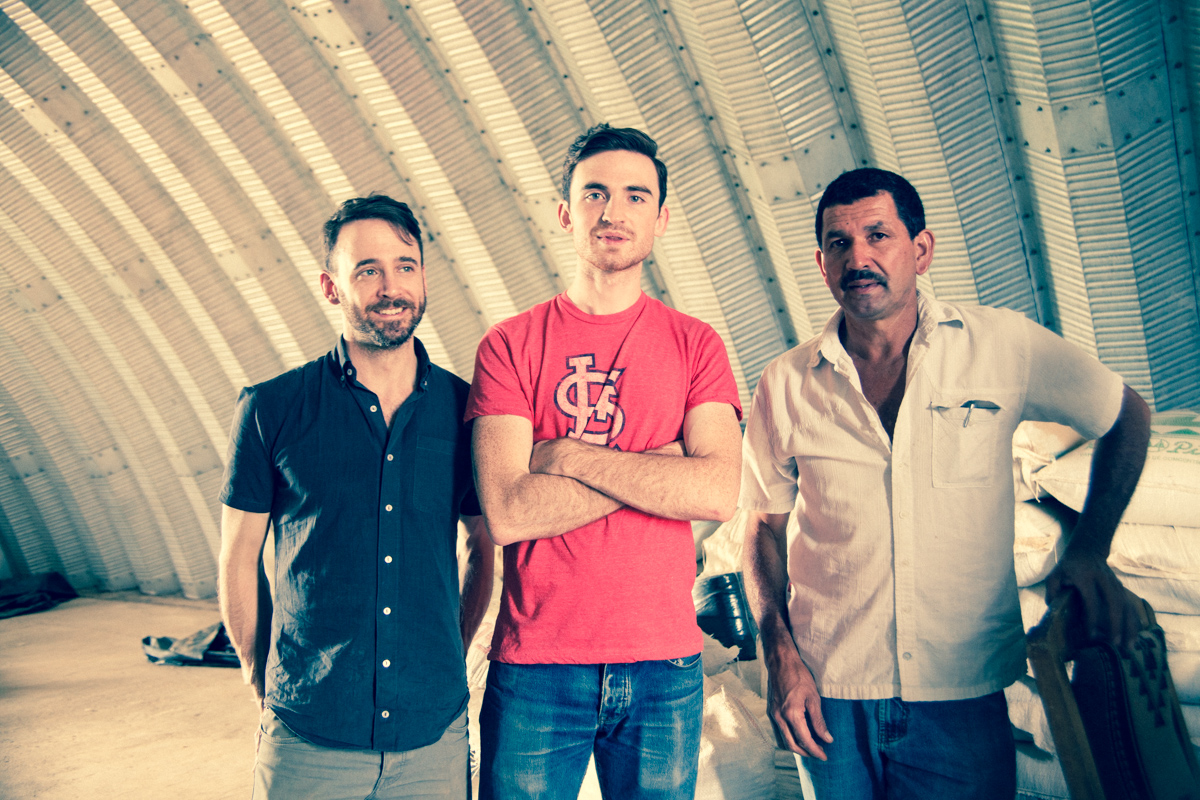 Sean and Winston (Coffee Roasters + Green Buyers) stand with the Godfather of the Micro Mill revolution in Costa Rica.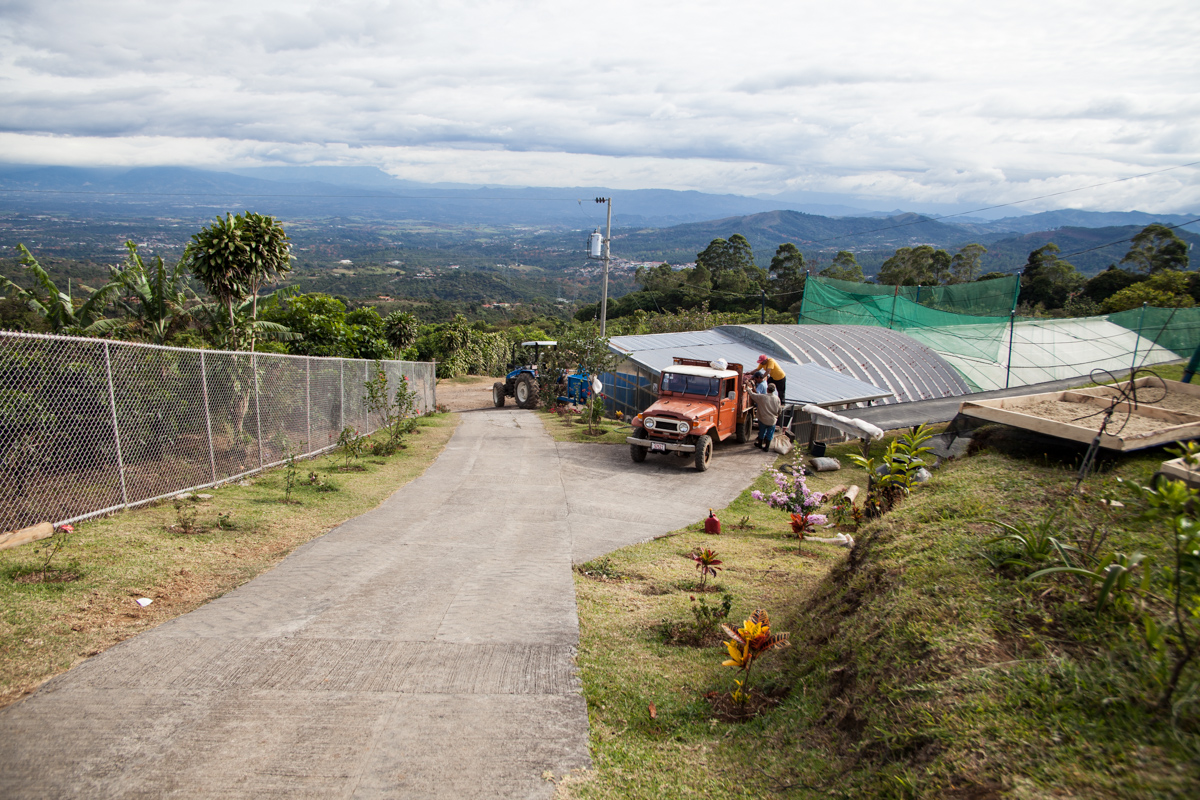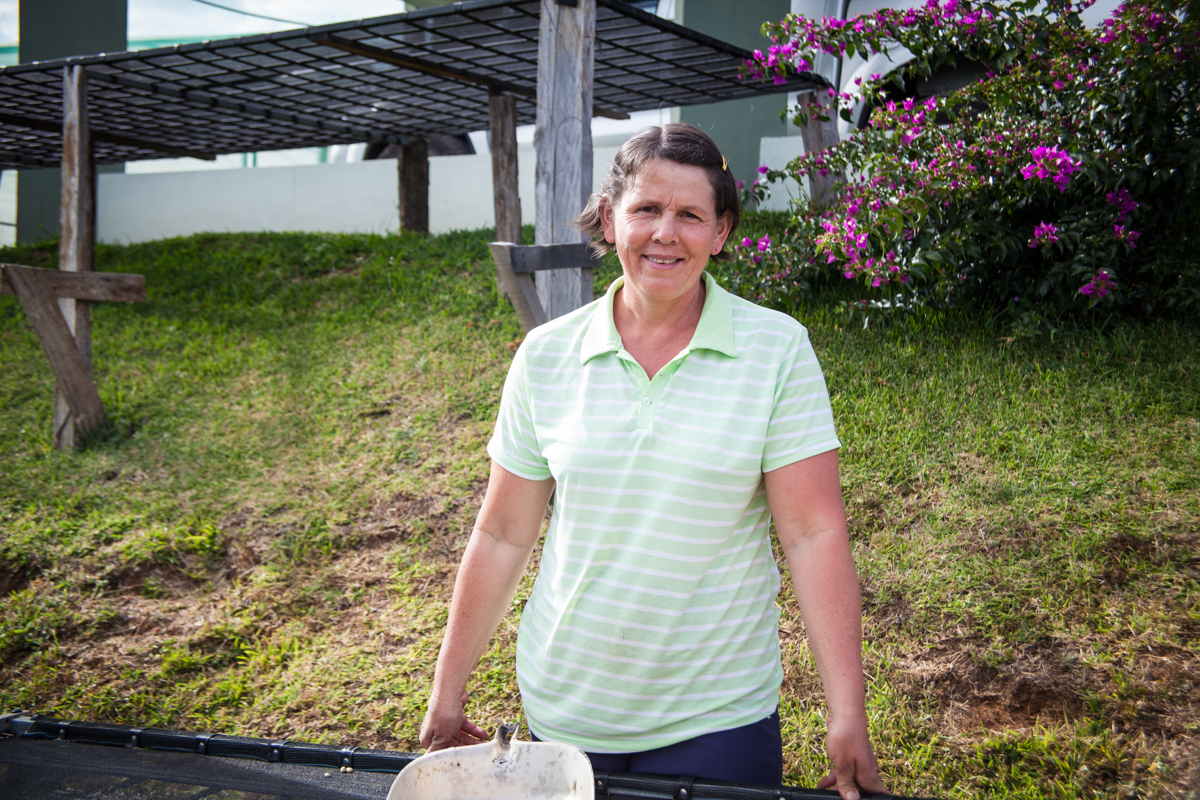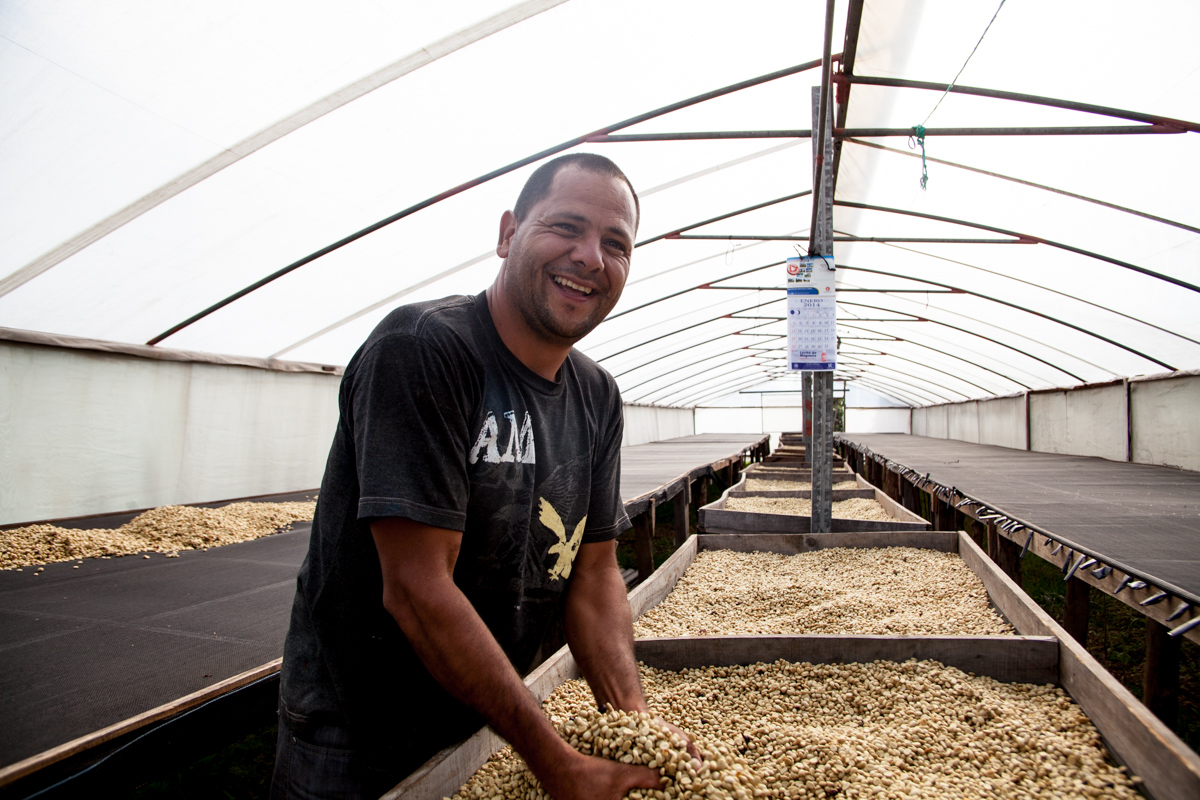 A young farmer we visited who cordially showed us his mill and processes. The beautiful smell of sweet coffees drying in this greenhouse are cause for all of us to stop and smile.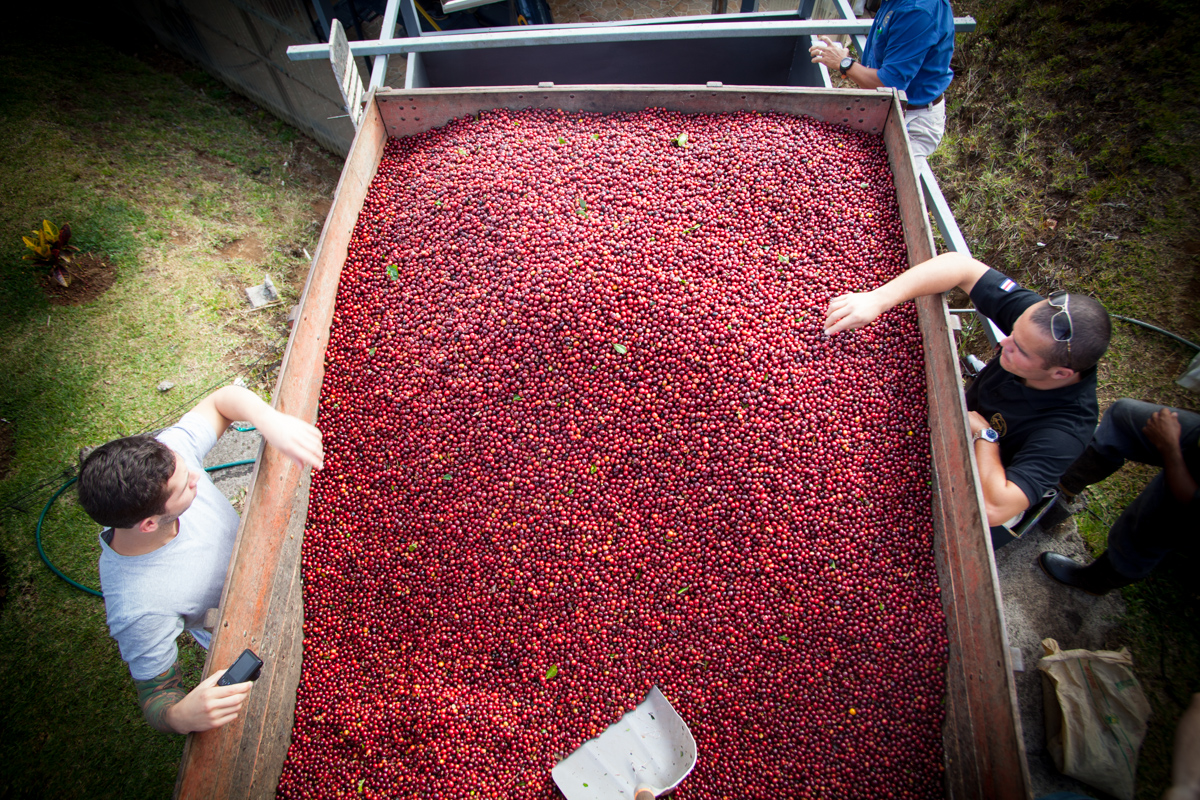 View from the top of a truck with today's coffee cherry haul. It will be dumped, sorted and dried.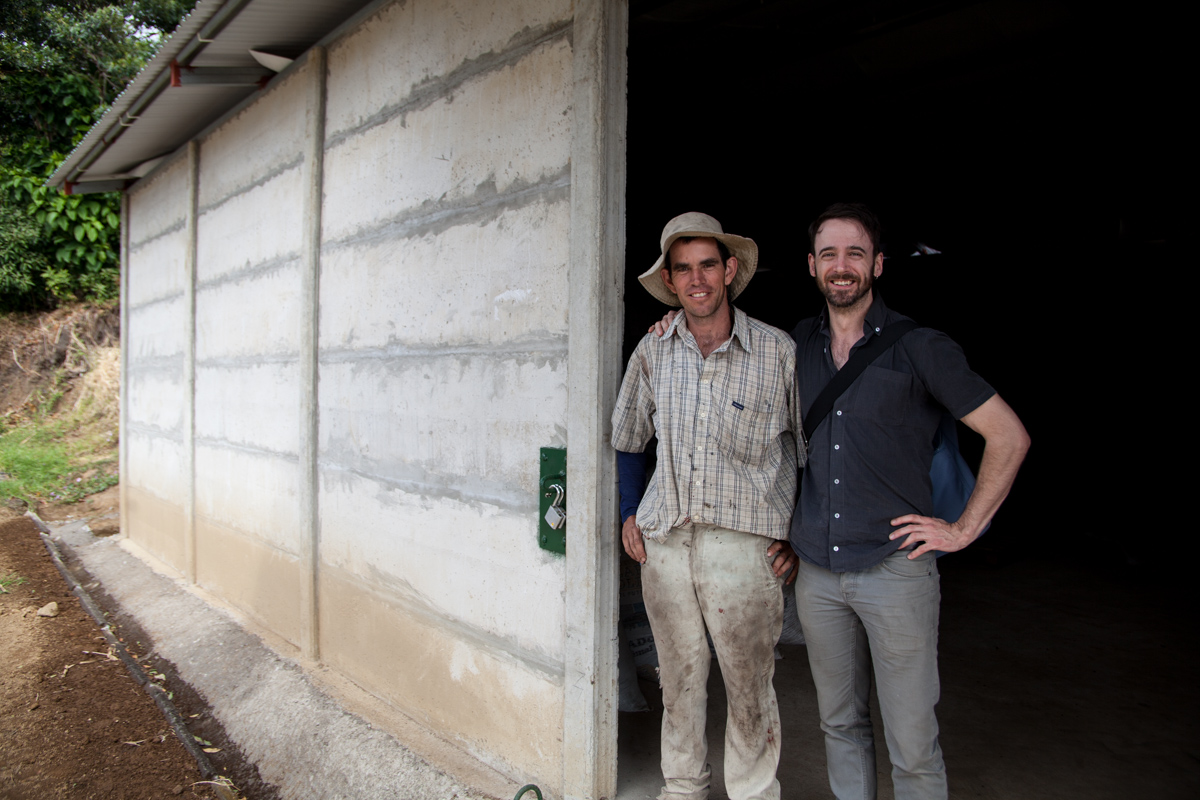 This farmer is new to speciality coffee, but not coffee. With the help of Exclusive Coffees in Costa Rica he is in his second year and producing some amazing coffees.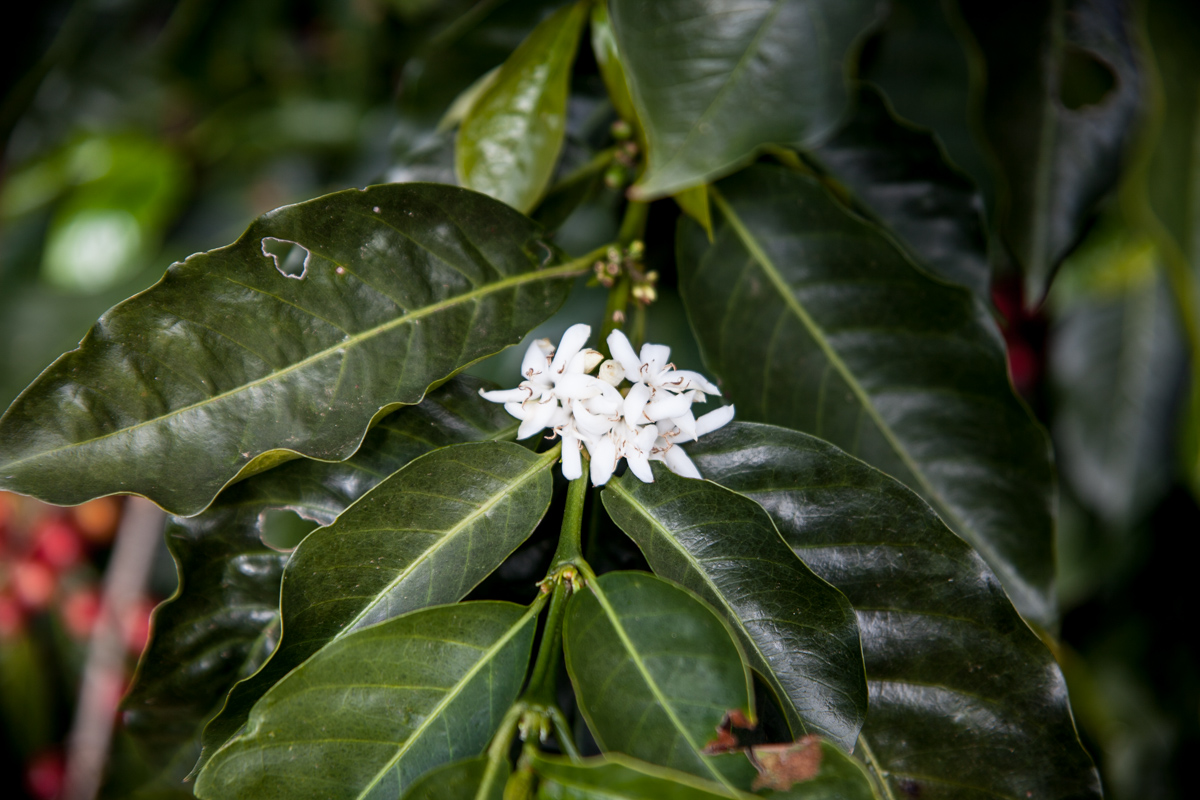 A coffee flower. Before a coffee plant produces coffee cherries it flowers. Muy hermosa!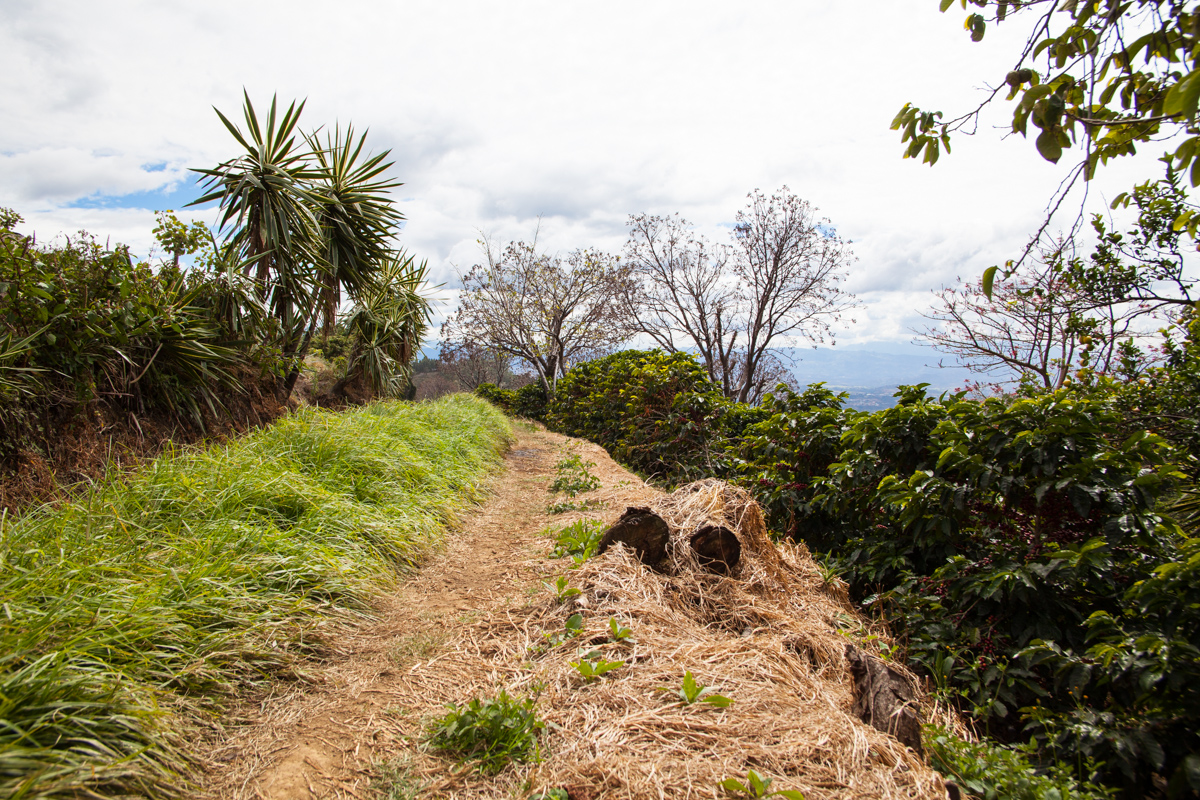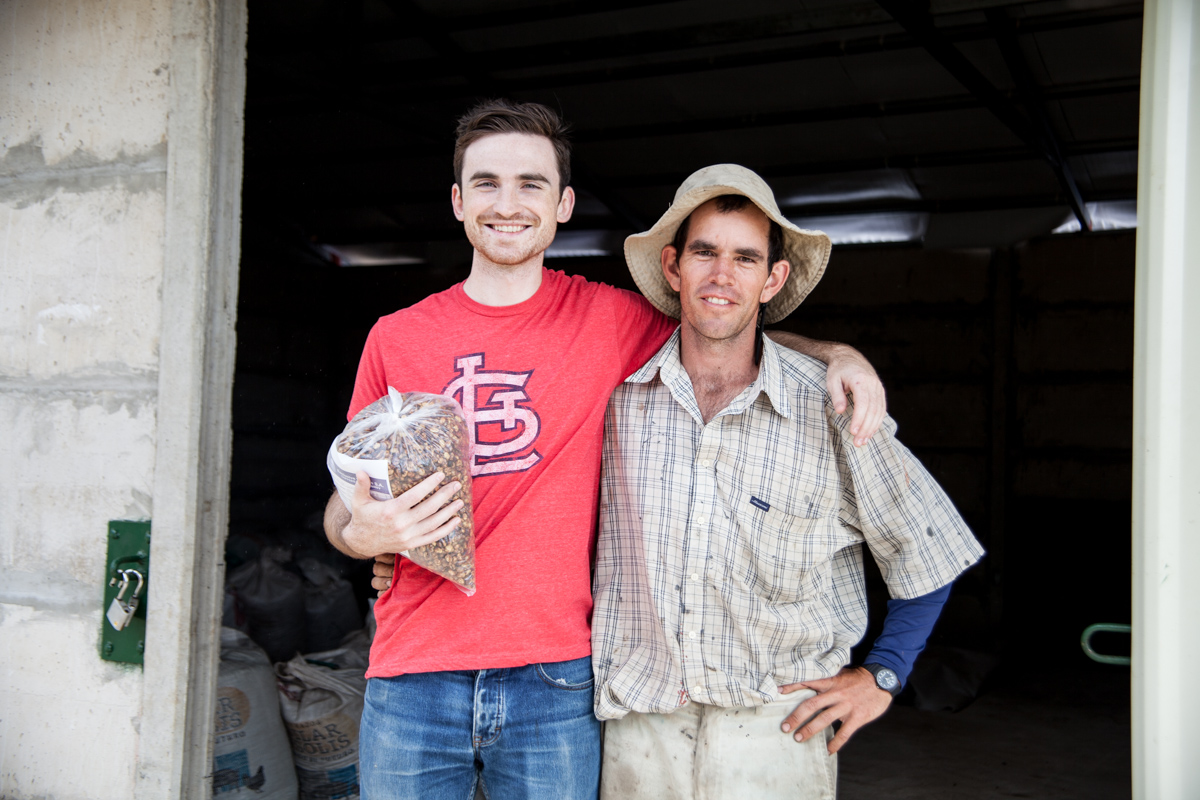 This farmer is new to speciality coffee, but not coffee. With the help of Exclusive Coffees in Costa Rica he is in his second year and producing some amazing coffees.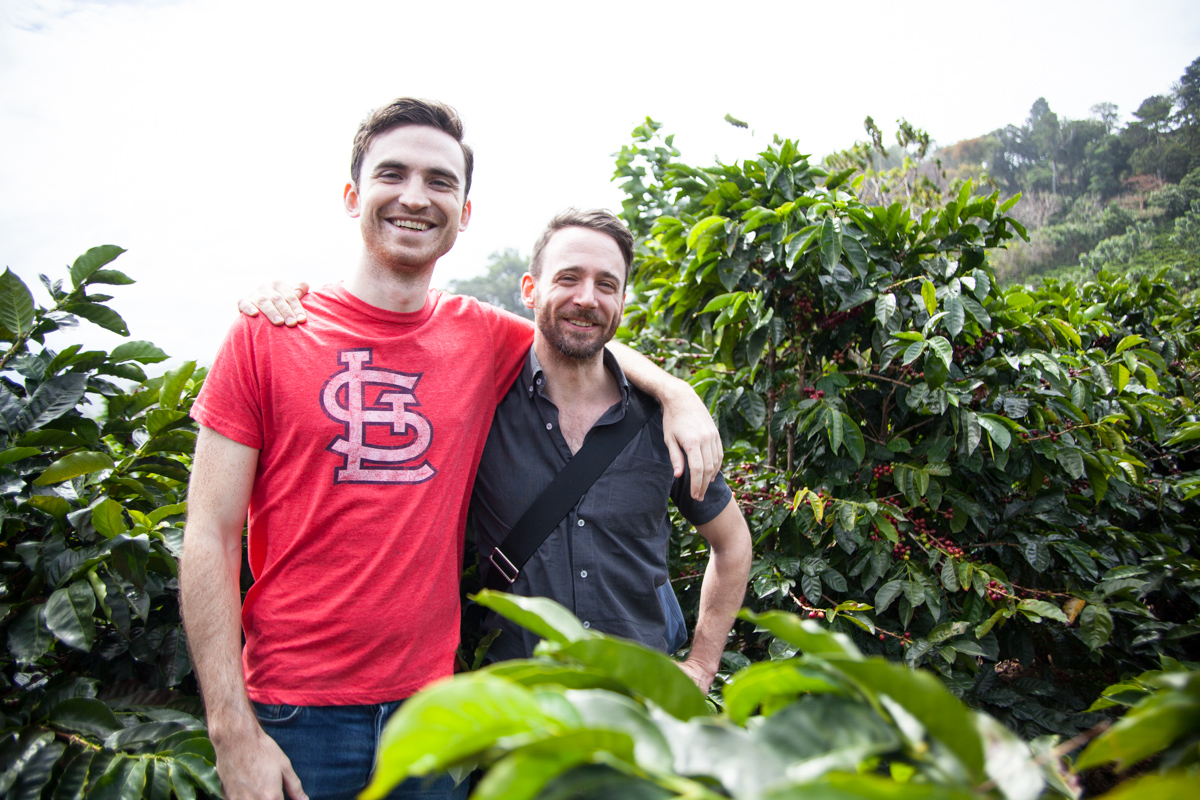 Sean and Winston, Coffee Roasters + Green Buyers, get all sentimental whilst walking an amazing farm in Tarrazu Costa Rica.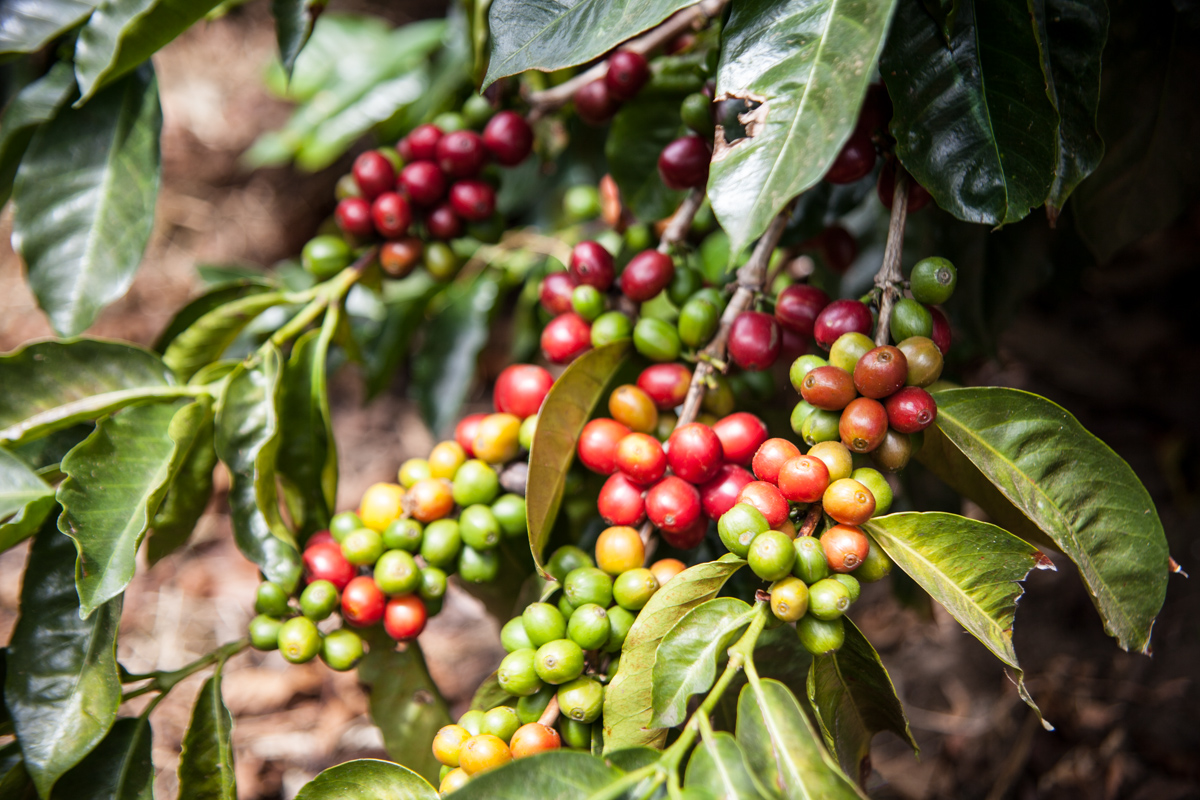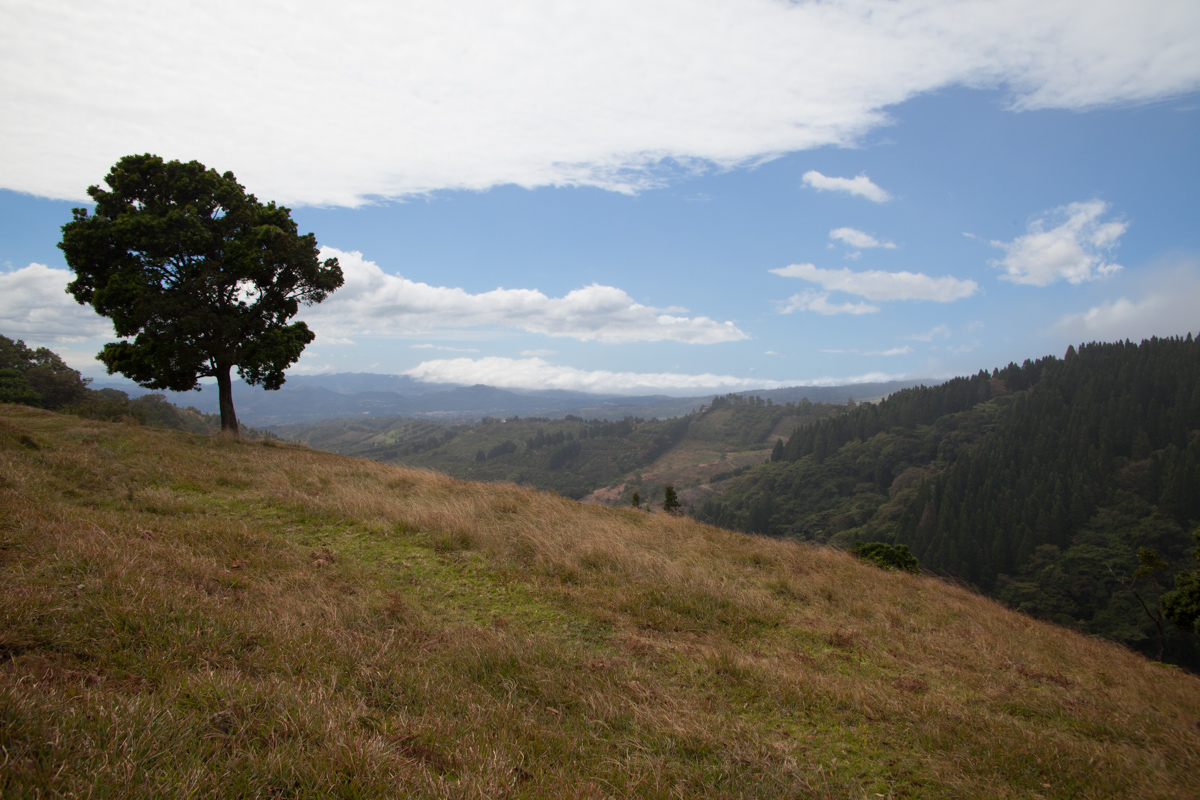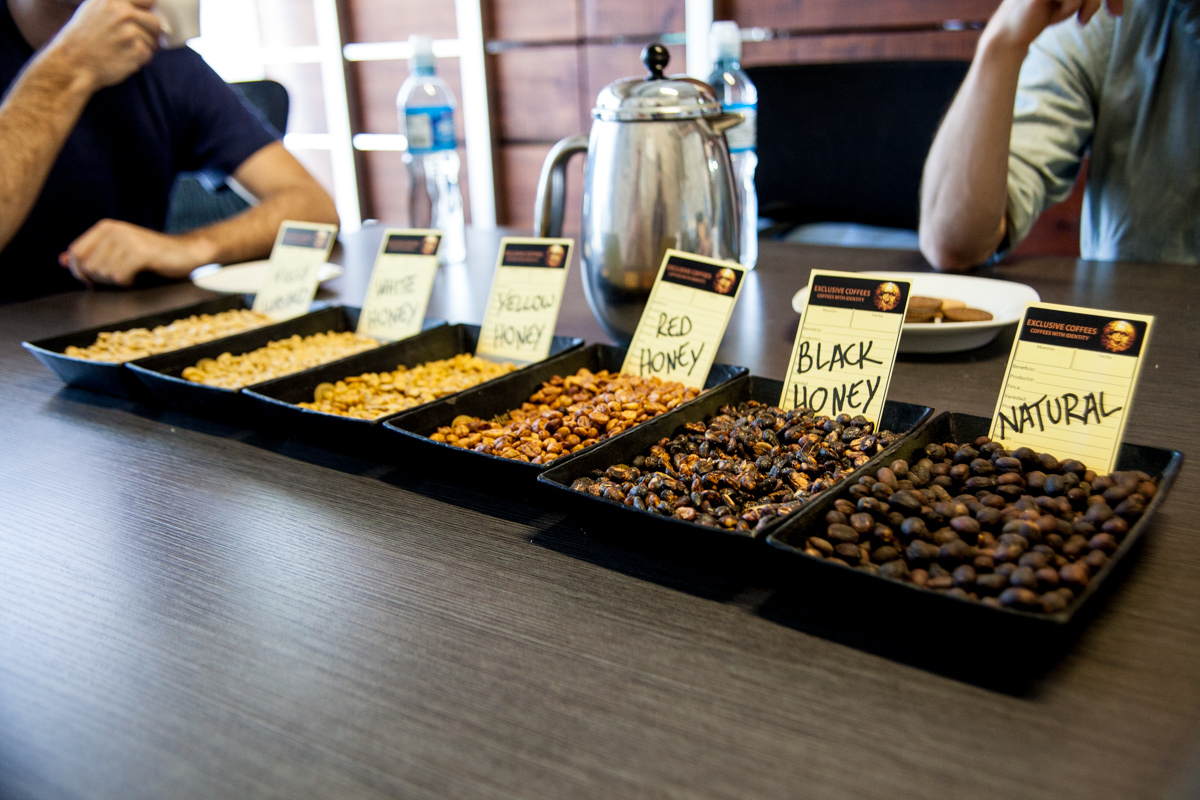 Examples of the varying "honey" style coffees at Exclusive Coffees, Costa Rica. Simply correlates to how much of the pulp is left on the cherry during drying - the more pulp the more fruity tasting the coffee.
We were surprised they let us out of El Salvador, what with all the pupusas stuffed in our pockets.
Continuing our journey to the source of things, we landed in Costa Rica, our hearts full from our time with Don Miguel and family, and our pockets, unfortunately, sans pupusas.
It probably was a good thing we weren't still munching on that El Salvadorian treat--we had coffees to cup.
Our friends at Exclusive Coffees welcomed us, whisked us right off the tarmac and into the coffee lab. Miguel, Javier, Wayner, and Francisco--old pals from our last Costa Rica visit--guided us through a bountiful cupping table at Exclusive's impressive facility. We tasted over thirty-five coffees that afternoon alone, and planned our farm visits around the ones that wowed us.
The next day we trekked all about the Central and West Valleys. The lush, hilly region (think Scotland) is brimming with coffee life, and we liked what we saw (and tasted). Our day moved from one mill to the next, tasting and seeing many of the same impressive coffees we'd cupped the day before.
That there are so many mills to visit in Costa Rica is itself a big deal. In the not-so-long-ago old days, farmers would sell to large co-ops, not having mills of their own. Because their coffee was essentially going in with everyone else's, farmers were paid less, and had less incentive to cultivate outstanding coffees.
Not anymore.
With the help of Exclusive Coffees, farmers are being empowered with small loans to build their own micro-mills--and it's changing the way coffee is done across the country.
Instead of sharing the production load with several neighboring and competing farms, the opportunity to build micro-mills has allowed local farmers to provide deeper care for their own crops, and sell their coffee at higher prices. This care has resulted in overall better coffees (and better paid farmers) emerging from Costa Rica.
Our own friends and partners enjoying this boon are in Tarrazu--we visited them the next day. Our hosts were Don Mayo and Luis, who had been so good to us the last time around. We toured Don Mayo's mill and Finca Los Angeles where we were welcomed back with a delicious homemade liqueur and coffee concoction.
You should recognize the name of Luis's mill. Named after his mother, the La Lia mill is gorgeous, and the birthplace of our delicious coffee of the same name.
Luis's farms were predictably awesome. We hiked through Santa Rosa, strolled through Pie San, and ate coffee cherries at Finca Dragon. Each of the farms was wildly beautiful, perched high in the arid hills, and full of activity. Luis is experimenting with new crops, cultivating new varietals, and blazing new trails. At one point he literally blazed a trail, striking off through the trees, leading us to a tiny grove of papaya-tasting coffees. (Don't worry--we're gonna buy some.)
And what a treat it was, to be at the source of things, to be alongside our friends and partners, trailblazers in the Costa Rican coffee industry. From them we have learned the joys of careful, precise work, the value of empowering small, hardworking farmers, and the pleasures of a bright, sweet cup. But mostly we have learned to look out at our lives and say, just like our Costa Rican friends do, pura vida.