Manuel oversees quality at Finca La Esperanza and at Cerro Azul. He spends a lot of time on the farms inspecting plant health and discussing growth solutions with the farmers.
Finca Finca Cerro Azul Gesha cherries.
This device is used to collect and document weather data (wind speeds, amount of rainfall, etc.). With these records, farmers can make informed decisions concerning increasing plant growth (i.e. the eucalyptus trees planted due to windspeed).
Taking a walk through the tall gesha trees of Cerro Azul.
Coffee cherries held by a picker.
Discussing fermentation options at La Esperanza
Sean and Pedro at El Parque Nacional de Café de Colombia.
We spent a day in the lab with Luz, one of the lab assistants, cupping all their current offerings.
Sean roasting up some samples in the Café Granja coffee lab in Caicedonia.
Laurina seeds are smaller and less round in shape.
Hernando explains the reason why geisha coffees are so much more expensive than other varietals. According to Hernando, it is simply because the trees produce fewer cherries and are more sensitive to weather changes (whereas other varietals are not).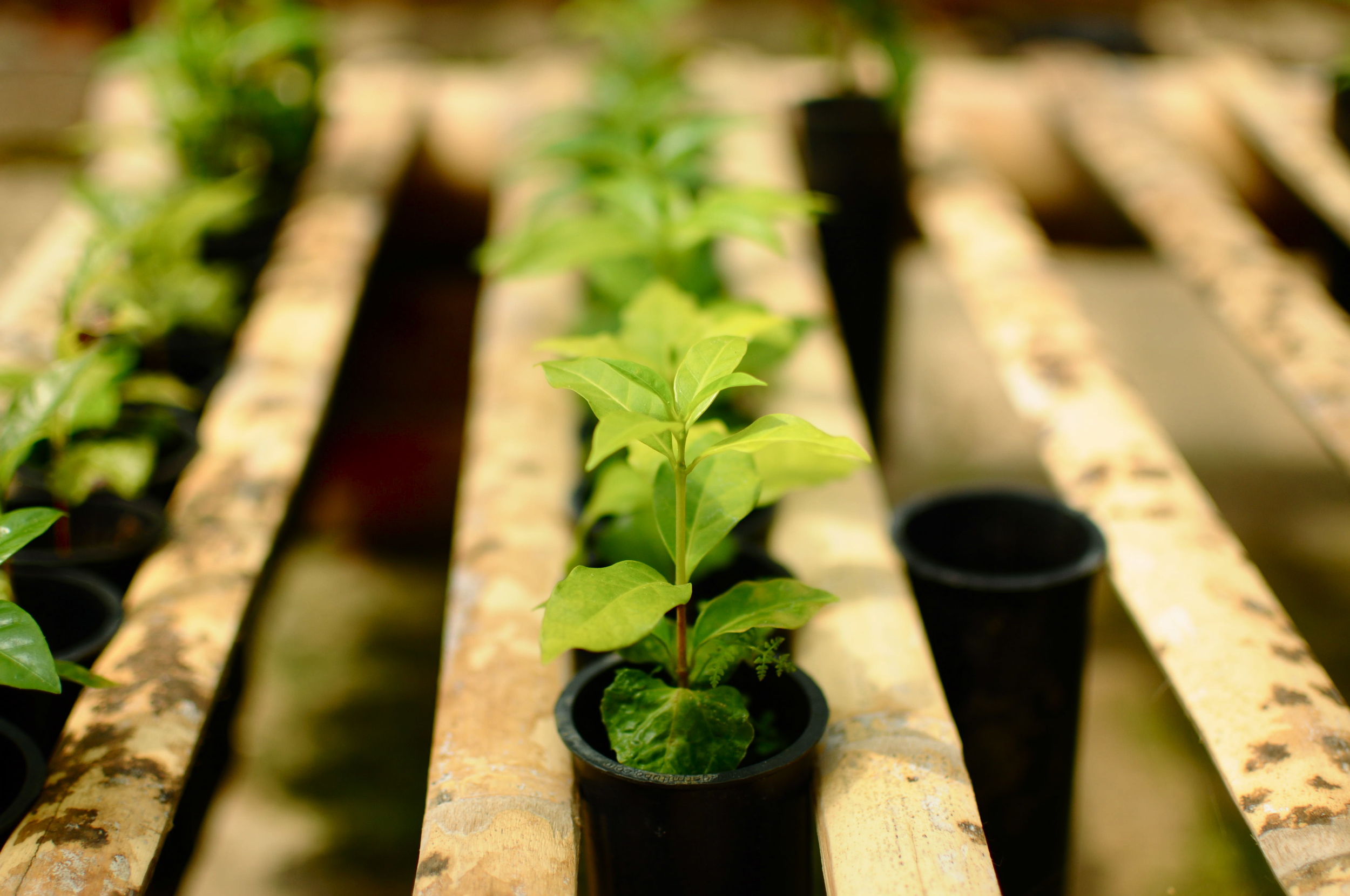 The Laurina varietal naturally contains only .5% caffeine. According to Mario, only women are allowed to harvest this coffee because finding a perfectly ripe cherry requires much closer attention to detail.
Mario supervises quality at both Finca Las Margaritas and at Potosí (the fourth farm owned by Café Granja in the valley). For Mario, the farm is a school where he is lucky to spend his days.
Red bourbon shrubs at Finca Las Margaritas, separated into lots by plantain trees.
Café Granja's newest addition – honey-processed bourbon at the lab in Caicedonia.
A view of the house at Finca la Esperanza, built in the traditional style of a Colombian coffee plantation home.
Collectors resting after a morning of harvesting on Cerro Azul's vertical fields.
Collectors resting after a morning of harvesting on Cerro Azul's vertical fields.
One of the most beautiful views of our trip. They have planted several eucalyptus trees near the top of the hill to prevent wind damage to their plants.
Entering into Cerro Azul, an all geisha-producing farm and Café Granja's highest elevation land.
Our decked out transportation for the week.
At the processing center, all steps in the process are closely tracked in order to better produce a consistently delicious product.
One of the men at the La Esperanza processing center.
Some coffees are mechanically dried in silos fueled by milled parchment.
After being depulped, fermented, washed, and sorted, seeds dry either on a patio or in a mechanical drying silo.
Seeds are then manually sorted to remove any remaining cascara or defects. Everything is sorted into taza (cup profile) and segunda (second tier coffee).
Defective seeds and leftover cascara are picked out by hand to ensure a clean crop.
Washing off mucilage after 14 hours of fermentation.
A ten-foot tall pile of cascara (coffee cherry). The farms use this organic material to fertilize the organic shrubs at Finca la Esperanza.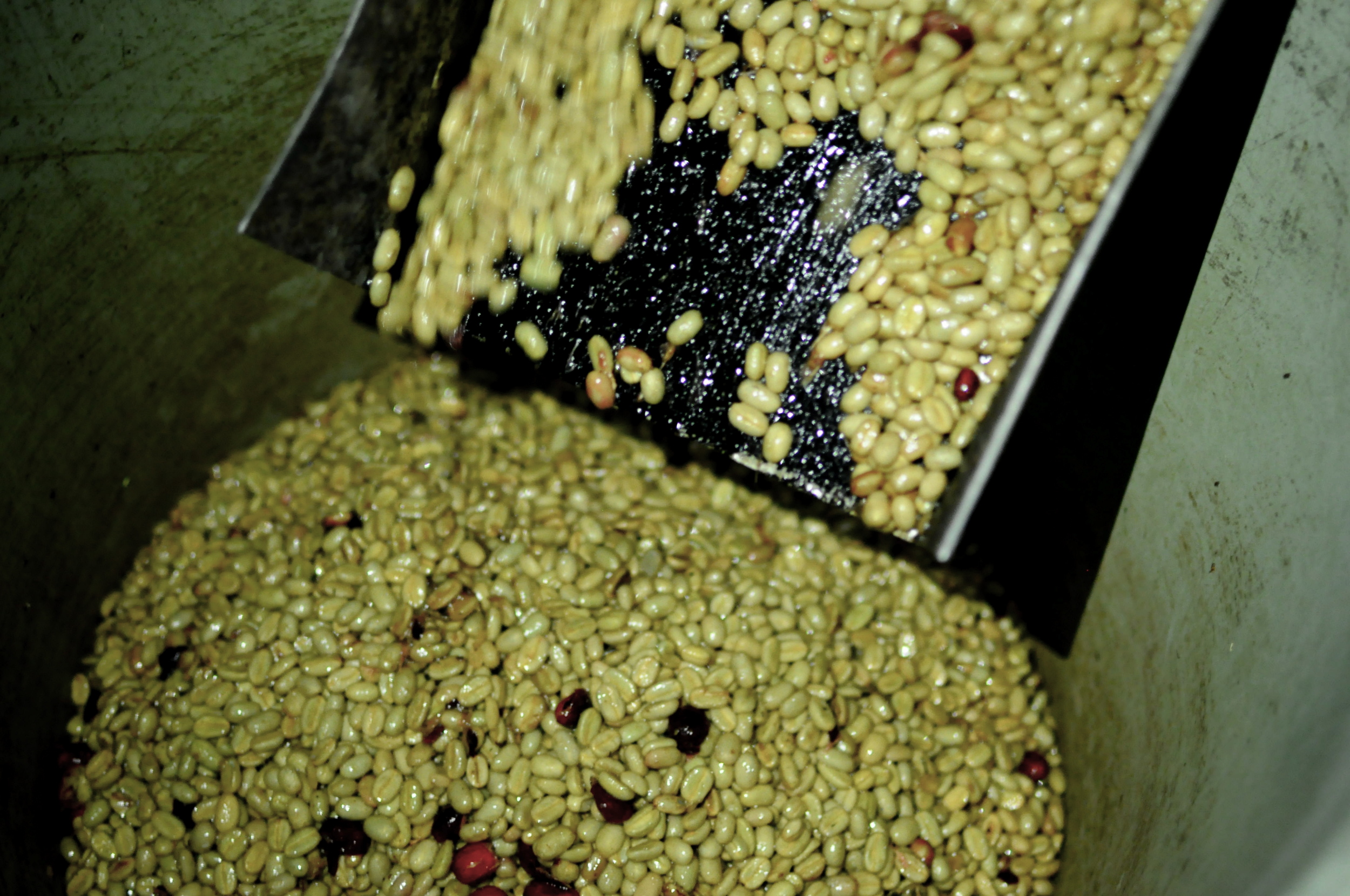 Coffee seeds fresh out of the cherry – the beginning of processing.
Despulpador (depulper) at Finca Potosi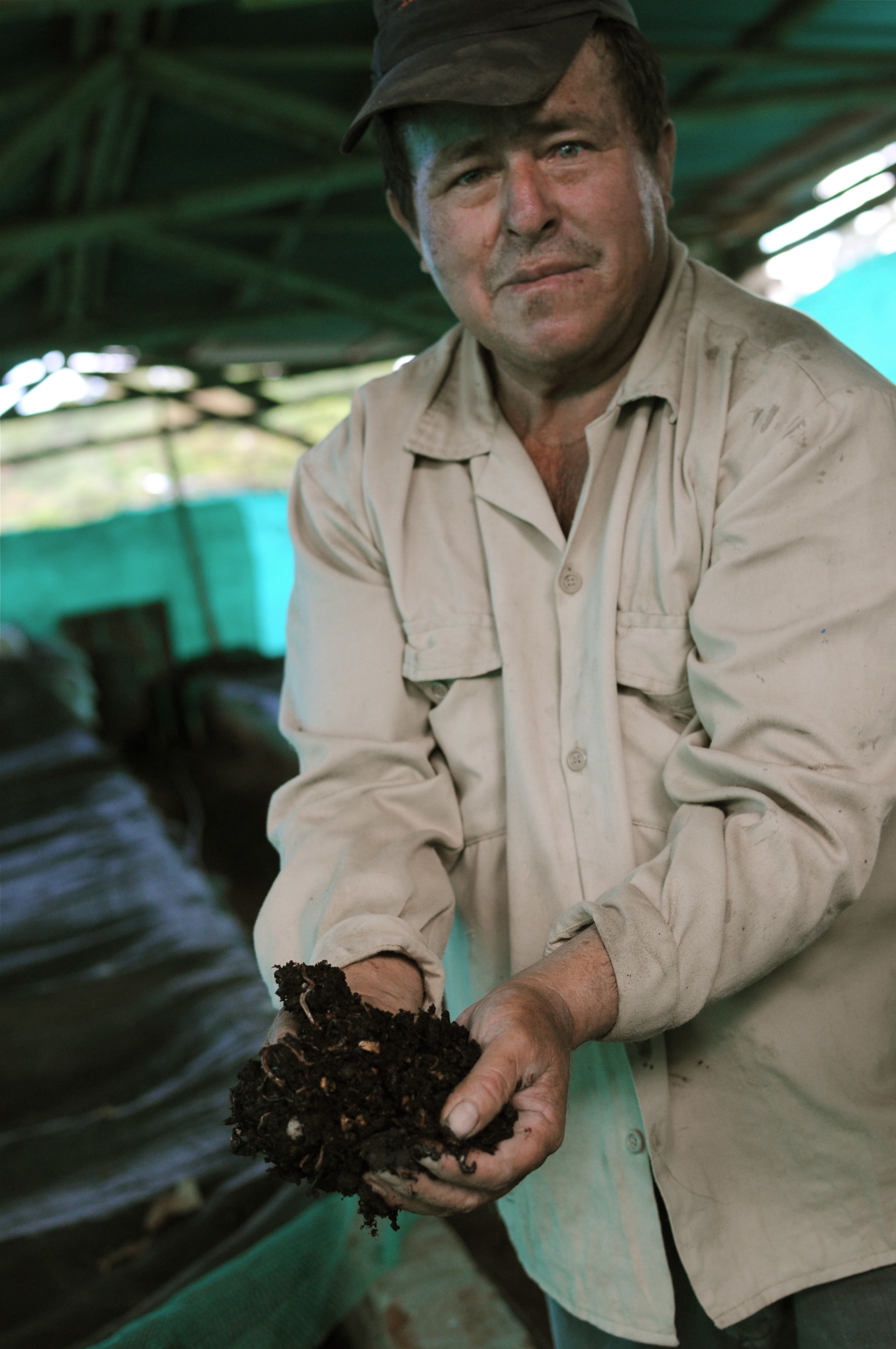 This dude makes worms out of dirt.
A sampling of red and yellow bourbon cherries at Finca La Esperanza
The view from the house at La Esperanza overlooking the Trujillo Valley in the Valle del Cauca region.
In the hills of Trujillo, Colombia sits the beautiful farms of Cafe Granja La Esperanza. After meeting the farmers two years ago plans were soon in progress to visit Colombia. We are honored to have developed a direct trade relationship with Rigoberto Herrera Correa and his team at Cafe Granja La Esperanza in the Valle del Cauca, Colombia. They have several different plots of land spanning across southwest Colombia, and we visited three of them. The farm won three spots on the 2012 Coffee of the Year board at The Event in Portland, and continues to pursue new and unique varietals, rigorous climate control and data recording, and quality protocols in every step of the process. They pay their workers well above the industry norm, have built a school for the workers children, and provide them with housing and plenty of crops to eat off the land. They truly are a mark of excellence in the world of coffee production in Colombia.
We had the pleasure of visiting Finca La Esperanza and Finca Cerro Azul in Trujillo, and in neighboring Caicedonia we visited Finca Las Margaritas. Sean and Julie spent several days walking through the hills picking ripe coffee cherries and learning just how detailed they are with processing, drying, and grading their coffees on the cupping table. They record every harvest date, for every coffee, for every lot that is picked. Incredible. We sampled the coveted Laurina varietal that grows 99% naturally decaffeinated, the Heirloom Gesha varietal from Cerro Azul and Las Margaritas, Bourbons like; the San Bernardo, Tekisic, Yellow, Red and Honey; Pacamara (the only one in the country), and the Caturra cultivar.
Hello to Rigoberto and his entire family, Manuel, Hernando, Pedro, Angelica, Luz, Mario, y todos los otros! Abrazos a ustedes y sus familias!
Keep an eye on CREMAstore.com for amazing coffees from these farms.